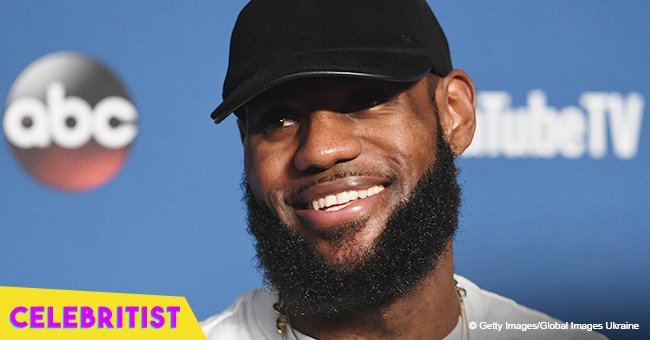 LeBron James stops hearts with sweet photos of his mom wearing red lipstick

The world may call him King, but Lebron James is still a Mama's boy at heart and not afraid to show it either. The NBA superstar shared a FaceTime screenshot with the woman he calls "My Everything."
Gloria James has always been her son's biggest fan, and even though their relationship has endured several scandalous hits, mother and son remain a team. Lebron revealed he was on "the other side of the world," but that did not stop him from checking in on his mother.
MAMA'S GOT THE MOVES
Gloria was pictured wearing what looked to be a black blazer. Her hair and makeup were done professionally, and an assistant's hand adjusted her ensemble. In one of the photos, Gloria and Lebron puckered up to send each other cyber kisses.
The Basketball MVP revealed in his caption that Gloria was prepping for a photo shoot:
"When you FaceTime your mom from the other side of the world cause you heard she was slaying at a photo shoot. Ok mama I see you!! Don't hurt em. #MamaJames #GrammyisWhatZhuriSay #GloIsWhatHerFriendsSay #MyEverythingIsWhatISay"
A TEENAGE MOM MAKES HER CHOICE
The bond between Gloria and her only child runs deeper than the natural maternal force. Theirs is a love forged by hardship and stubborn perseverance.
At the age of 16, Gloria found herself pregnant. Her baby daddy, Anthony McClelland, wanted nothing to do with her or their child, so the teenage mom decided to raise him on her own. She had her mother's help for a while until the woman died when Lebron was three.
THE STORY BEHIND THE GLORY
Semi-literate and unskilled, Gloria found it hard to provide for herself and her son. They ended up moving 12 times in three years as a result of their poverty. Through it all, however, Gloria never let her son lack support and affection.
Lebron affirmed:
"She put me first. I knew that no matter what happened, nothing and nobody was more important to her than I was. I went without a lot of things, but never for one second did I feel unimportant or unloved."
The father-of-three also recalled the time she helped him with his fourth-grade school work:
"Me and my momma went home, split the extra credit papers. She did half and I did half. We turned that [expletive] in, and they passed me. That's why my momma a G to this day."
LONG LIVE THE KING!
So when the time came for the world to meet "King James," it was with his mother right by his side, "from his 2003 NBA Draft night to his 2009 NBA MVP presentation to his 2010 charity Bike-A-Thon."
Gloria has been in the news for unpleasant things a couple of times. In 2011, she was arrested for hitting a valet while drunk and then there was the 2010 rumor that she was sleeping with Delonte West, her son's teammate at the time.
But in all these, Lebron continues to remain loyal and dedicated to the woman who gave up her life to build his.
Now that's how to be a King!
Please fill in your e-mail so we can share with you our top stories!