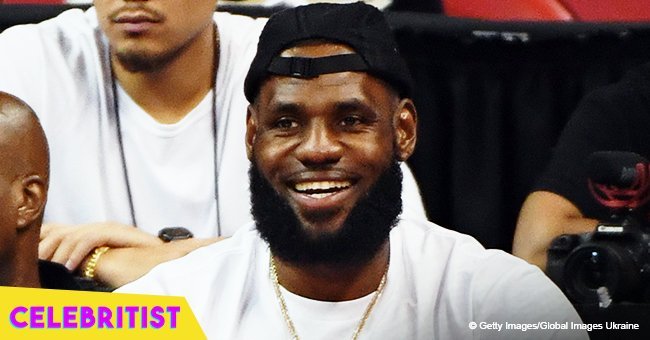 LeBron James steal hearts with photo of his 3 kids posing in matching basketball T-shirts
NBA star LeBron James, who recently signed a contract with Los Angeles Lakers, took to Instagram to share a photo of her three children wearing matching "James" shirts.
In the image, LeBron James Jr., also known as Bronny, Bryce, and Zhuri were standing very close to each other wearing black shorts and black shirts that read "James" and "23" in golden letters and numbers.
For the caption, the NBA star wrote: "The Migos! Bronvo, Bryset and Zhuroff. Gone miss this show while I hit the road for 2 week!! But when I return I know y'all concert will be even better and I can't wait to see it. Love y'all beyond life itself [sic]."
As soon as LeBron uploaded that photo, his fans and followers took to the comment section to share their thoughts.
One of then was Instagram user @coco_mayo76, who pointed out that the picture was very fancy as the golden color in the shirts perfectly matched the trimming on the stove.
That photo was posted just one day after Savannah James, LeBron's wife, took to Instagram to share a video of her two youngest children surprising her in a very adorable way.
The short clip began with Savannah recording the living room of the family house and, from a door at one side of the place, Bryce got in wearing a grey sweater and black shorts.
He was smiling while carrying a backpack that seemed to be quite heavy. He slowly got closer to the couch where his mother was recording everything and sat down, carefully placing the bag on the sofa, too.
Later, the boy turned around and started revealing what he got in the bag. Suddenly, a pair of small hands and feet began coming out. It was the youngest member of the James family, Zhuri, who was having some troubles to get out of the backpack.
Still laughing, Bryce helped his sister out, and all that Savannah could say was: "that bag is too big." Right after that, the girl jumped on her mother and the video ended.
Please fill in your e-mail so we can share with you our top stories!