Teen boy stumbles on wallet full of cash, then makes the right decision and returns it (video)
Tyler Opdyke was giving out fliers for a local business in a neighborhood when he found a wallet stashed with cash on the driveway of a home and immediately knocked on the door to return it the family. 
Melissa Vang, the homeowner, spoke to ABC10 and confirmed that the wallet, which contained around $1,500, belonged to her husband.
ABC10 also shared the home surveillance footage of the event on September 19, 2018, which showed Opdyke placing the wallet at Vang's front door.
Read more on our Twitter account @amomama_usa.
Vang was at home, in Elk Grove area, Sacramento County, with her two young girls when she heard a knock on her front door but did not answer it thinking it might be a stranger. 
By the time she checked the surveillance video, the teenager had already walked away. Vang then checked the wallet and found the cash was left untouched.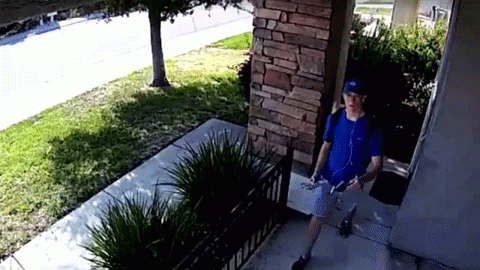 Opdyke was in the neighborhood passing out fliers for StrikeZone Pest Control. He told ABC10 that he heard voices of little girls coming from inside the home and wondered why no one was answering the front door when he began knocking on it.
After knocking at the door for a couple of minutes, Opdyke looked around, and when he noticed the surveillance camera installed in the front, he let the owners know about the wallet by waving it in front of the camera. 
"I'm like how can I find some way to let them know that I have this [wallet]. I was like 'perfect, here's a camera right there,'" he said.
Vang later took to Facebook and posted the video of Opdyke's act of kindness, to thank him. She also added that she did not feel right about the fact that she was suspicious of someone with such good intentions. 
"It touched my heart for him to return this much cash," said Vang. Opdyke did confess that he was thrilled for a very short amount of time when he found the money especially because he was about to start college and the cash would come in handy. 
But he felt that keeping the money would not be a right thing to do as he had no idea what kind of situation the family, to whom the money belonged to, would be in.
The thoughtful teenager also added he received a lot of attention after the video went viral and he was surprised at the exposure he got for something that should be considered normal. 
While Opdyke may have returned the wallet he found, there was someone else who ran away with another man's wallet.
When a man saw a fox on the road, he immediately took out his phone and began to film it but little did he know that the fox had would turn out be like the cunning foxes from children's stories.
Teen returns wallet w/ $1500 cash. Woman in home said, "It's sad that I didn't trust him to open my door when he was just doing a good deed" pic.twitter.com/gdVFaybQJQ

— Fox News (@FoxNews) September 20, 2017
A Snapchat video posted on Reddit.com on March 2018, about a sly fox has gone viral on the internet and is serving as a proof of the crafty nature of foxes told in old myths and tales. 
The fox, walking on a street in some part of England, spots the man and moves towards him slowly and seems like the fox is warming up to him. 
But as the man relaxes a little, the sneaky fox snatches the man's wallet and runs away with it. The man chases the fox, and his Snapchat caption reads, "He stole my… wallet!!!"