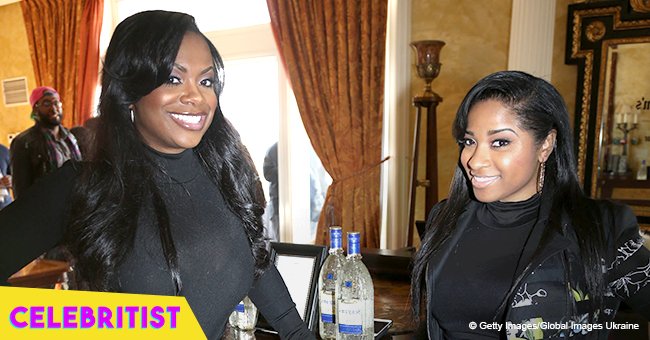 Kandi Burruss heats up talks after wearing exact same dress and shoes as Toya Wright did

Kandi Burruss surprises fans by wearing the same dress her good friend Toya Wright already wore a week before. Even more strange, she matched it with the same pair of shoes Toya wore them with. See the pics revealing their twinning moment.
Kandi Burruss looked gorgeous during a night out with her pals recently garbed in a form-fitting dress that accentuated her hourglass figure. However, fans noticed something strangely familiar about her ensemble. It seems her friend Toya Wright had already worn the exact outfit a week ago.
Kandi and Toya's friendship grew out of their common hometown of Atlanta. They would often attend parties together as they share the same circle of friends. Just this month, they graced a bash for the release of The Bonfrye's EP and they even posed for a photo along with Rasheeda Frost and other celebrities. Kandi was dressed in a black spaghetti strap dress while Toya glowed in a yellow wrap around top and ripped black jeans.
Both fashionable with their own clothing lines, their choice of wardrobe is always something fans look out for. Which is why Kandi's recent outfit was subject to scrutiny. Apparently, her beige and white striped turtleneck dress had already been worn by Toya last week. Even eerier was the fact that they both wore the dress with the same pair of shoes.
One of Kandi's fans who saw the photo she posted where she's donning the controversial dress pointed out this coincidence in her comments section.
"Why did rock the exact same dress and shoes as Toya Wright did?"
Just for comparison, here is Toya's previous outing wearing the ensemble. In her caption, she thanked @ellemaricollection for her dress, the same company Kandi credited her dress to. Notice that she's also wearing the same pair of shoes Kandi wore.
The Shade Room took it upon itself to put both photos together and challenge fans to a who-wore-it-better match.
While both Kandi and Toya appear to share the same taste in wardrobe, they also have an affinity to twerking. During their trip to Miami in July where they celebrated their friend Tiny Harris' birthday, the two were photographed twerking in the pool in their black swimsuits. Kandi revealed she was getting twerk lessons from Toya.
They sure have a lot in common, these two. After all, they are friends, and you know what they say about birds of the same feather, they do stick together.
Please fill in your e-mail so we can share with you our top stories!