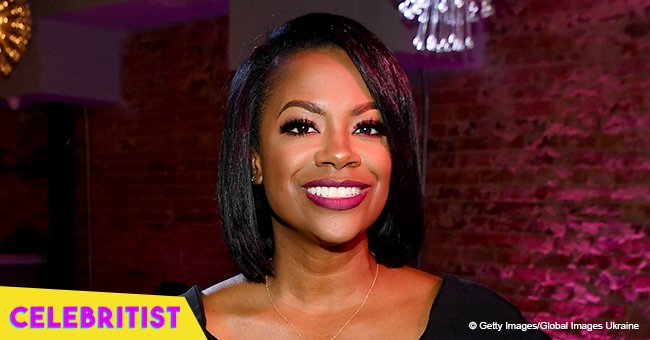 Kandi Burruss turns up the heat in red latex dress in recent picture
The "Real Housewives of Atlanta" was in Miami for the weekend to celebrate Tameka Harris' birthday, and she put on her best clothes for a girls' night out that, unfortunately, didn't happen. But Kandi is not one to waste the chance for a sexy pic, so she shared the outfit on her Instagram account.
Kandi Burrus has been working like crazy for the past few months. She's running a boutique, a clothing line, a store of adult toys, a line of baby products inspired in her son and a restaurant while filming for the reality show "Real Housewives of Atlanta," hosting her talk show "Kandi Koated Nights," and working on her music career.
And while some might think she doesn't have free time, Kandi proved them wrong by going on a quick trip to Miami to celebrate her former bandmate and friend, Tameka "Tiny" Harri's birthday. Burrus joined Toya Wright, Malaysia Pargo, and other girls to have fun under the sun in their best swimsuits.
Kandi revealed that she got twerking lessons from Toya, as she posted a pic on Instagram where the two ladies are squatting by the pool while in the middle of the dance lesson. Kandi put her curves on display in a one-piece black swimsuit with see-through details in the chest and abdomen area.
Later, the mother of two stunned her followers by posting a photo rocking a body-hugging tight latex red dress that accentuated her curves and put her cleave on display thanks to its low cut neckline. Kandi completed the killing look with black strappy heels, silver accessories and her hair styled in weaves flowing down her shoulders.
The businesswoman explained that even though she felt terrific wearing the dress, she didn't have the chance to show it off because she was supposed to have a girls' night out, but the rest of the group didn't appear on time for them to party.
"I did my own makeup & curled my hair but now I'm sleepy & really don't feel like going to the club.... when you're the only one ready to go you might as well take a good pic!" she wrote and added:
"I posted this pic at 1 am. Toya & I ended up going back to our hotel to wait for everybody. They finally called at 3 am saying they were pulling up. We had already changed & were ready for our car to pick us up for the airport. So we never made it to the club & I wasted this dress... I'm gonna wear this dress somewhere else so don't trip when I post it again!"
After going back to Atlanta, Kandi proved why she's such a good businesswoman by revealing that after stepping out of the plane, she took her son Ace to school and went back home to keep on working on her different endeavors.
"If your play time is interfering with your ability to get up & do what you gotta do, you may need to stop playing!" she wrote in her caption to encourage her millions of followers.
Please fill in your e-mail so we can share with you our top stories!