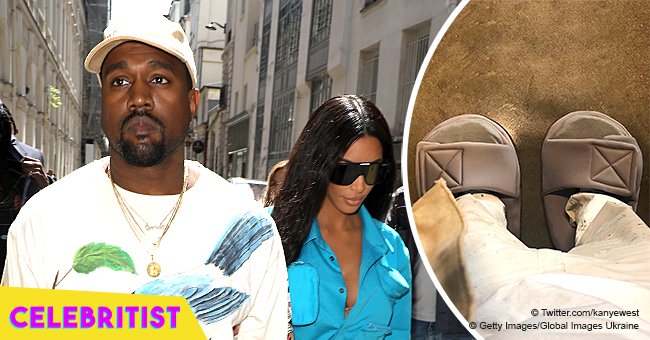 Kanye West wears oversized slippers after getting slammed over 'disrespecful' tiny Yeezy slides
Kanye West has just responded to recent comments about his tiny slides. See the photo he shared to make light of the situation.
Last week, he was criticized for wearing tiny Yeezy slides to a wedding. And now Kanye West responds with a photo where he's sporting oversized slides.
Fans were appalled when photos of Kanye and Kim Kardashian attending the wedding of 2Chainz hit the headlines. Though the pair rocked their respective outfits, Kanye's choice of footwear drew some flak. He was wearing Yeezy slides to the occasion, something many thought was pretty disrespectful to the events' celebrants. Moreover, the slides were noticeably small for Kanye's feet, raising even more eyebrows.
One fan continued to doubt the rapper's sanity and wrote,
"I'm not sure Kanye is clear in the head now like he wants us all to believe. He is in his own world."
Another expressed his dismay.
"Naahhh… Kanye is my guy but those slippers is just a dealbreaker."
It seems Kanye heard his fans' sentiments and has now responded in the way he knows best…through sarcasm. He recently shared a photo on Twitter where he's wearing oversized slides and wrote,
"are the slides big enough"
He added a laughing emoji and burning flames to highlight his sense of humor.
Kanye is back in Chicago and he felt good to be home. Prior to his oversized post, he shared a photo from his interview at a local radio station where he revealed he was back home to work with Chance on his new album.
It was also during the interview that the rapper broke his silence regarding his disappointing comment on slavery back in May. Kanye apologized for insinuating that slavery was a choice and hoped to do better for his black community.
Please fill in your e-mail so we can share with you our top stories!