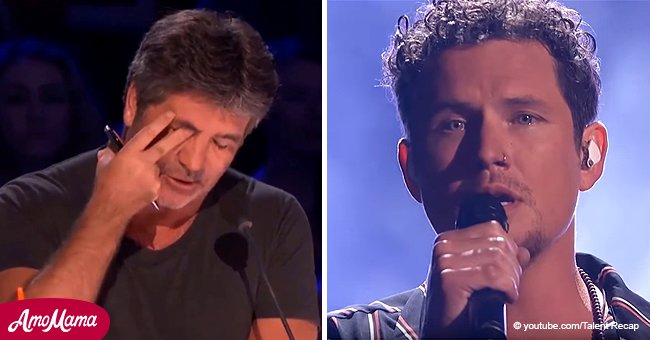 'AGT' Michael Ketterer's family share their private story

"America's Got Talent" fans had the rare chance to see a particularly emotional Simon Cowell on Tuesday's episode, after the performance of singer Michael Ketterer, whose family story resonated with the producer.
Ketterer is a pediatric nurse who lives with his wife and six children in Orange County, California, and surprised the judges at the beginning of the competition with his incredible voice and emotional history, as ET reported.
Cowell, who has come in touch with his softer side since becoming the father of Eric, now 4 years old, could really relate to Ketterer's devotion as a parent, and he showed sympathy for the singer since the beginning.
The British talent hunter granted Ketterer with his Golden Buzzer during this season's auditions, sending the contestant straight to the live shows. Read more on our Twitter account @amomama_usa
On August 28's episode of AGT's season 13, on the second week of the quarterfinals, Ketterer was the last act of the night and sang an emotional rendition of James Bay's "Us" that received a standing ovation from the audience.
Michael Ketterer's story
The morning after Michael captivated everyone with his number, ET visit his home for an exclusive interview on which he was joined by his supportive wife Ivey and their children, Michael's biggest source of strength and inspiration.
Michael and Ivey are parents of six children, including a biological daughter, Sophie, and five children the couple adopted from foster homes to give them a stable family like every child deserves.
The Ketterer's started to adopt when Sophie was 6 when she asked their parents for brothers. With this impulse, they went on to adopt Jared, Chase, Jeriah, Sean, and Rodrigo, a 9-year-old with cerebral palsy.
Sophie shared her thoughts on why she believed her father, the whole family's role model, was the one who should win AGT's grand prize.
"I think because he has an amazing story and he's an amazing human being. I believe that he is a leader and so for him to win, he would be able to lead even more," reflected the girl.
"I think my dad deserves to win because he is a good father and a great person. And his heart is amazing," added Jared.
An unrecognizable Simon Cowell
Michae's powerful performance really seemed to strike a chord with Cowell, who started to cry before the show's host Tyra Banks had the opportunity to ask the judges for comments.
Cowell's attempts to get Banks to ask the rest of the judges for comments before focusing on him were in vain, as she was determined to let Cowell share his real and uninhibited feelings about Ketterer's performance and background.
"As I dad, I can't imagine [doing] what you've done, and the fact that you're on this show and you really need this. You're a really, really special guy. There's just something about you."
-Simon Cowell, America's Got Talent, August 28, 2018.
"That was one of the most beautiful moments I've ever seen from you, that vulnerability and that beauty," Banks said. "That's what a lot of people don't know about Mr. Cowell, is that he is a big soft papa."
Please fill in your e-mail so we can share with you our top stories!