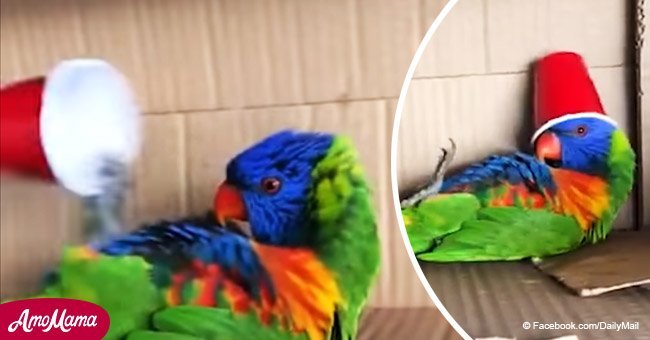 Vibrating 'broken' parrot looks like it has been drinking too much coffee

A parrot named Angus amused netizens by behaving in a strange but adorable way.
In a video posted on Facebook, the one-year-old Rainbow Lorikeet can be seen dragging a red plastic cup up and down and making sounds with it.
At one point, Angus even put the cup over his head like it's a hat.
Angus's funky personality charmed many netizens. But some think that the parrot may be so bored.
Follow us on our Twitter account @amomama_usa to learn more.
"Please get him a friend or mate please! This is utter boredom... He desperately needs a companion and more toys with bells and whistles," commented Connie Hamilton.
"He's going berserk through boredom/loneliness. It's not funny! These birds are highly intelligent, and need constant mental stimulation from activities and company," wrote Andrea Seman.
Hope Gaumone Welch begged to disagree. He wrote: "I think he is just having fun, enjoying a new toy. It is not boredom. These are happy little birds that know how to play. He is very funny running and dragging the cup as well as putting it on and off like a hat."
Rosanna Boyte chimed in: "Adorable! Also love the picture of his little 'friends' taped on his box!"
Rainbow Lorikeets, which are native from Australia, are easily recognizable for their bright-colored plumage.
They are also known for being social birds. They generally live and move in flocks.
Parrots are popular pets because of their ability to mimic sounds, including that of their owners.
Recently, a parrot made headlines after he was seen calmly enjoying a ride on its owner's shoulders as they were both being rescued.
The Canadian man was supposedly rescuing the parrot at first but ended up needing to be saved as well.
He got stuck in waist-level mud on one of the dredged lakes at Bicentennial Park in Belleville.
He had chased the parrot after it flew off from his shoulder towards the center of the lake.
Please fill in your e-mail so we can share with you our top stories!