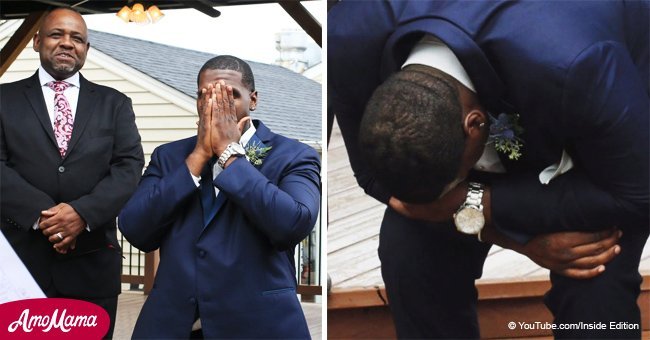 Groom breaks down in tears when he sees bride walking down the aisle for the first time
Quintin Reed, 27, was overwhelmed with emotion when he saw his wife-to-be Ashleigh Patrick Reed walking down the aisle. The heartwarming video was uploaded to YouTube.
The 26-year-old bride was decked out in a traditional white dress as her father walked her towards the altar. Reed waited patiently before looking up.
The wedding at Cottleville Wine Seller in Missouri became a tear-filled occasion when Reed looked up to see his new wife. He could not control his touching reaction. He said:
"When I saw her my heart was overwhelmed with joy and my entered body just became numb as I witnessed the most beautiful woman ever in front of me."
According to Daily Mail, Quentin was already going through a lot of emotion as he waited.
"My uncle who was the Officiant told me to look down at my watch until the moment was right."
Quentin said his "heart was pounding so incredibly fast" in anticipation of the big moment.
"Then the moment came. She walks around the corner and my uncle tells me to look up at my bride." He continued," And when I do, my heart becomes overwhelmed with joy."
At that point, Quentin can't help but thank "God for such a wonderful woman." That's when the tears came.
"All the emotion just brings me to my knees. I am the luckiest man in the world!"
Ashleigh herself lost control when she saw her husband's strong reaction. She said that she had "never seen him cry like that, and the love [she has] for him overcame [her]."
In walking down the aisle, Ashleigh realized she was going to marry her dream man whom she believed she would marry the instant she met him.
Quintin, who teaches kickboxing in Des Peres, Missouri met Ashleigh, a pre-school teacher, at Lindenwood University in St Charles three years before getting married.
Ashleigh described Quintin as "a complete gentleman," "a thoughtful man," and a romantic who "is genuinely nice to every person he meets."
The two didn't enjoy their honeymoon right after due to limited finances, but the lucky bride says she "can already tell loving this man and marrying this phenomenal man will be the best decision [she's] ever made."
While the Reeds' wedding was a fairly simple affair, the royal party is obliged to make things a little more extravagant. Back in July 2018, Designer Elizabeth Emanuel reveals how she observed that Princess Diana had gone down several waist sizes before her wedding.
She went from a 26 to 27-inch waist to a 23-inch waistline. Emanuel shared that Diana "just walked more confidently"afterward. The dress had a long train at the end which Emanuel was a bit worried about, but it all turned out fine.
And in May 2018 when Meghan Markle got married, she wore a more modern dress with a train as well. There was a scare when the train got snagged in a corner pew.
But a quick-thinking guest untangled the material as Prince Harry looked over a few times with concern.
Please fill in your e-mail so we can share with you our top stories!