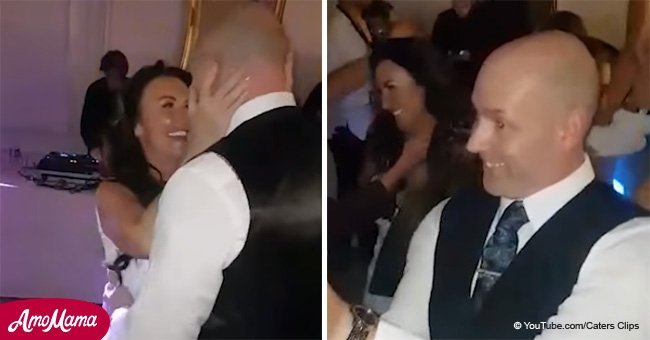 Bride and groom stun guests with unusual song for their first dance
In the run-up to their wedding, the family was struck with tragedy just days before. Deciding they needed to lighten the mood a bit, they made an interesting call for the reception.
Lisa and Phil Weeks tied the knot on August 23, 2018 at West Tower manor house in Aughton, Lancashire. Video footage shot at the reception shows the couple getting ready for their first dance, with all eyes (and cameras) on them.
But when the music starts, their loved ones are immediately surprised by the first dance song: Baby Shark Doo Doo Doo.
The couple started dancing enthusiastically to the popular song, miming all the movements along with the tune for their guests to enjoy.
The reason they chose such a strange song is quite sad, and immediately earns them points for creativity in the way they dealt with the heartbreak.
Phil's father William had been diagnosed with prostate cancer six years ago, and was told in the past few months that there was nothing more doctors would be able to do for him after the disease spread to his bones.
William wanted desperately to see his son and Lisa tie the knot, so he had urged them to pull the ceremony together quickly so that he would be able to be there. Tragically, he died just a week before the wedding.
"The wedding meant everything to William, when we would see him he would be keeping a countdown and say 'there's only so many weeks left,'" Lisa said. "It was devastating for us when he passed away the week before as we knew how much he wanted to see us marry. It did cross our minds to cancel it but Phil's mum Carole said to do it for him. We hadn't got a first dance song planned and didn't want anything too emotional which would upset everyone. The song had been in our heads all week as we'd seen it online loads."
Lisa ended up phoning the DJ the night before the wedding to ask him to organize the tune as their first dance, and he had had to Google the song as he didn't know what she was talking about. When he saw his only response was: "You two are nuts."
The couple didn't rehearse their dance before the wedding, learning the moves off the YouTube clip of the routine while sitting in bed.
While most of the adults at the wedding were perplexed by the dance, the children in attendance immediately recognized the track and started dancing along.
Please fill in your e-mail so we can share with you our top stories!