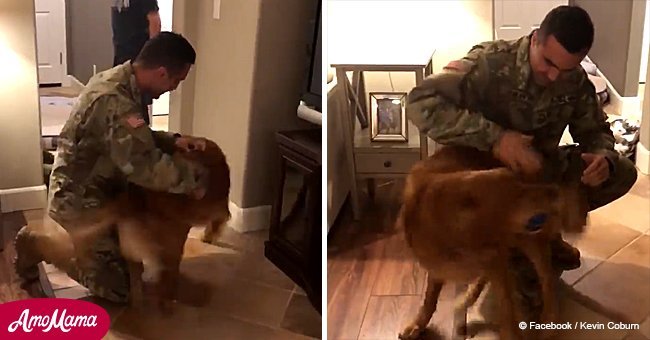 Dog can't stop crying when seeing his military owner for the first time in 9 months

A dog and her soldier-owner were emotional as they got reunited for the first time in several months.
Private First Class Kevin Coburn returned home to Livermore for a visit after nine months of training at Fort Bragg, to the delight of his Golden Retriever, Zephyr.
In a video posted to Facebook, the pup can be seen sitting patiently as she waits for Jacob, Kevin's brother, to drop the blanket he was holding up over the doorway.
When the blanket drops, it was Kevin standing in the doorway, not Jacob. It's a trick that may seem magic for Zephyr.
Follow us on our Twitter account @amomama_usa to learn more.
She excitedly runs up to Kevin, spinning in circles and wagging her tail. Kevin gives her lots of rubs, something Zephyr surely missed.
Jumping into the What the Fluff Challenge bandwagon
It was Kevin's mom, Lisa Lord, and his younger brother, Jacob, who planned the reunion.
"We arrived home from the San Francisco Airport at 1:00 a.m. While we were all very excited and emotional to have him home, no one was more happy than our four-year-old Golden Retriever, Zephyr, and none of us anticipated Z's reaction," Lord said.
They decided to do a special What the Fluff Challenge, the Internet trend that has pet owners hold up a blanket and then disappear, much to the animal's confusion.
The video, which Kevin posted on August 18, 2018, has racked up 27 million views in two weeks. It has also been shared almost half a million times.
Heart-warming reunions
Reunions between pets and their owners are truly an emotional sight. But reunions between animals also prove to be a tearjerker.
Jasper the Cat's heartwarming reaction after being reunited with his best friend, a blind dog named Coco, has also gone viral.
The video footage, uploaded to YouTube, shows how Nicole Juliana's two pets react after meeting each other following a month of separation.
Juliana had taken a job in which she had to relocate for some time. She took her daughter's dog, Coco, with her because she is blind and requires extra attention. Coco's reunion with Jasper was a heart-melting moment for netizens.
Please fill in your e-mail so we can share with you our top stories!