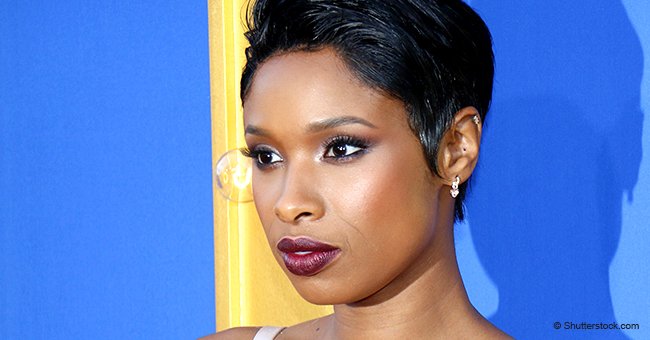 Jennifer Hudson stuns in velvet black suit, sings 'Amazing Grace' at Aretha Franklin's funeral
Jennifer Hudson delivers a powerful performance during Aretha Franklin's funeral service. The singer is set to portray the late "Queen of Soul" in her upcoming biopic and she clearly has what it takes to nail the role.
Jennifer Hudson drove many to tears during her performance at Aretha Franklin's funeral on Friday.
Midway through the 7-hour service for the Queen of Soul who died on August 16 due to pancreatic cancer, the 36-year-old singer took the stage for an electrifying rendition of "Amazing Grace," stunning audiences at Detroit's Greater Grace Temple.
Donning a velvet blazer and a fascinator hat, Hudson brought her audience to their feet as she sang lyrics that erupted from her powerful voice. A choir backed her up during the second verse of the song providing a soft and soothing balance to the singer's explosive vocals.
In the wake of Franklin's death, Hudson paid tribute to her by sharing a video of the late singer's song "Let It Be." In her caption, she acknowledged Franklin for teaching her about life.
"I have no words, so I will let the Queen say it. [You] taught me so much about life and schooled me in mine. I will ever forget those teachings."
Hudson is set to play Franklin in the biopic "Aretha: From These Roots" after the "R-E-S-P-E-C-T" singer handpicked her in 2016. Franklin told People then,
"I've talked to the person that is going to play me. I'm not going to say who I chose, but I've talked to her and she's ready and I'm happy with her."
Earlier this year, Hudson showed off her skills portraying Franklin when she performed a medley of her hits during Clive Davis' annual pre-Grammys party. It was here that Davis also confirmed Hudson was going to portray Franklin in her biopic and affirmed the decision.
"She stops any and every show she's in. Her voice is truly incredible. When they ask, 'Where's the next Aretha? Where will the next Aretha come from?' I say, 'It's her.'"
Following Franklin's death, producers of her film are reportedly making it a priority. Fans can look forward to finding comfort in the biopic as it relives Franklin's life. Details have not been revealed but it's possible the film will not only highlight the singer's career but her personal life. Franklin had a turbulent past. Her mother passed away when she was only 10. Her father was a Baptist minister who allegedly held wild orgies in church. Forced to be an adult at a young age, Franklin found herself pregnant at 12 and again at 14. She was married by 19 to a man who allegedly abused her. This led her to marijuana and alcohol, and later, a compulsion for food. In 2010, she suffered a health scare that prompted her to shed off 85 pounds. On August 13, multiple reports revealed she was gravely ill and three days later, she succumbed to her death.
Please fill in your e-mail so we can share with you our top stories!