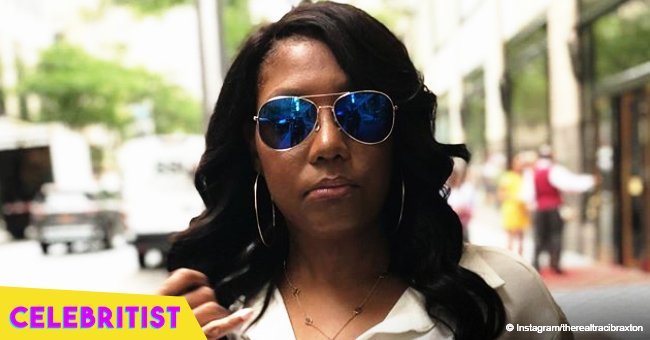 Traci Braxton reveals why Phaedra Parks joined the family's show & details fallout with sisters

"Braxton Family Values" star, Traci Braxton, has finally explained why Phaedra Parks recently joined their family's show. It has a lot to do with her strained relationship with her sisters, but that's not the only reason.
The Braxton sisters have always been a close bunch, but recently, there's been a lot of tension, especially between Traci and her two sisters, Toni and Tamar. As it turns out, Traci misses being on good terms with her sibling and has already found an alternative.
"Real Housewives of Atlanta" star, Phaedra Parks was recently filmed on the Braxtons' reality show as she accompanied Traci on a wild adventure to South Dakota and Wyoming.
Traci informed Essence that the trips were part of her ambassador duties for Black Cowboy Whiskey and since she wasn't getting along with her sisters anymore, in came Parks.
The 46-year-old explained:
"I was down in the dumps with my sisters…and it was one of my business ventures, my Black Cowboy Whiskey, and I wanted to reenact being on a ranch with black cowboys."
Along with Parks, Traci also went with rapper Flava Flav, reality star Tiffany "New York" Pollard, and comedian Kym Whitley. The group had the most fun, as Parks narrated:
"[We were] by ourselves, camping out, really learning about how cowboys survived. Learning about Stage Coach Mary, who was one of the only African-American women who participated in cattle herding, so it was really good. It was really good. I loved it."
The fun day out was followed by an all-girls spa day Traci enjoyed with Parks, comedian Luenell, and reality star Natalie Nunn. She confessed that being with the girls reminded her of being with her sisters.
Meanwhile, Tamar has since expressed her displeasure at Parks' introduction to the show, pointing out that the latter is "NOT a Braxton."
Traci has been at odds with her sisters since it was reported that she showed up to film "Braxton Family Values" despite the family's unanimous decision to boycott the show because of pay negotiations.
Fans have been bashing Toni and Tamar for their behavior towards their sister, but the "Lifeline" singer's recent action may have made matters worse. Traci admitted that her sister, Tamar, is creating new music, despite the latter not being ready to share the news.
Please fill in your e-mail so we can share with you our top stories!