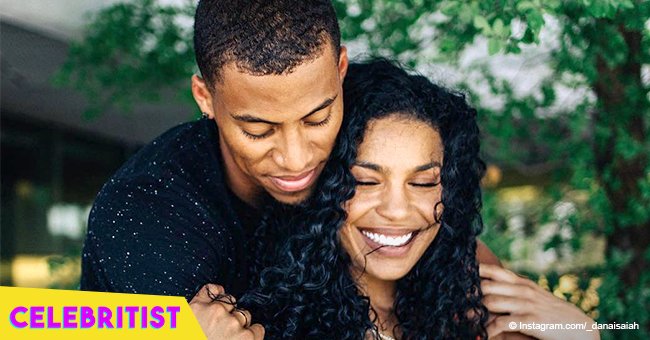 Jordin Sparks steals hearts with photo of blue-eyed son on his 4-month birthday
It's been four months since Dana Isaiah Thomas Jr. came into the world, and his proud parents have been melting hearts all over social media with adorable pics of the blue-eyed boy.
Jordin Sparks and husband Dana Isaiah didn't plan to have their first child so early in their marriage, but they couldn't feel happier about the blessing that is their gorgeous baby boy, DJ.
In a recent photo shared by Sparks on Instagram, she's celebrating her baby's four months, and he stole the fans' hearts with his deep stare.
In the pic, DJ is looking straight at the camera while laying down in what seems to be a baby car seat wearing a green onesie.
The singer captioned the photo:
"Happy 4 months my blue-eyed bear!! You're getting so big & amaze us everyday! We love you more than you'll ever know. @_danaisaiah, look what we made! I'll be in awe forever. Excuse me while I go cry."
Fans immediately flocked her comment section to share their thoughts on the picture and DJ. One user wrote "His eyes, what a little cutie! Enjoy every milestone."
Another added, "A 4-month old that looks 7 or 8 months old. Wow, he's gonna [sic] be a big boy. They are so precious, but they grow up so fast."
Jordin and Dana met in April last year, and by July they were already fleeing to get married on an impromptu ceremony in Hawaii. Six weeks later, Sparks found out she was pregnant.
The 28-year-old shared in an interview with People how much motherhood has changed her life and her relationship with Dana:
"It's transformed both of us. I feel like as humans we should always be trying to be better and trying to grow. With him, it's just expedited the process. I already know that Dana's infinitely better and I'm infinitely better just because DJ's here."
While they get the hang on parenthood, the couple is also working on their bond as husband and wife, making some time in between taking care of their baby to maintain the flame of their relationship alive.
"We've bonded and connected even more," said Isaiah. "When we go out on date nights, we talk more, and it's just brought us together on a different level than before."
Little DJ has been charming not only his parents but also the rest of the world on social media.
He's a happy boy, as Jordin described him, and fans are more than excited to keep on watching the boy grow.
Please fill in your e-mail so we can share with you our top stories!