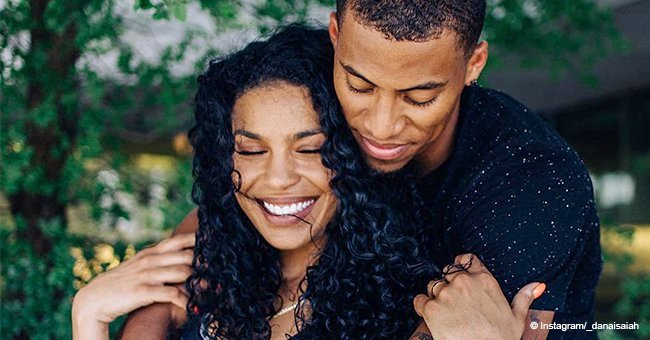 Jordin Sparks' baby boy steals hearts with bright blue eyes in recent picture

Dana Isaiah Thomas Jr. has been blessing his parents' social media account with his cuteness for the last two months. The proud father recently shared a stunning pic of the boy, and their resemblance is incredible.
Jordin Sparks gave birth to her first son with husband Dana Isaiah on May 2, and she couldn't be happier as she embarks on the motherhood journey.
Little DJ is already stealing hearts thanks to his incredible resemblance to his father. The boy has Dana's blue eyes, as seen in a photo that the proud dad recently shared on Instagram of the boy resting on his chest and staring wide-eyed at the camera.
"I wanna thank God for working way harder than Satan. He's playing favorites. It feels amazing..." the 26-years-old fitness trainer wrote in the caption of the pic
The couple met in April last year and got married in secret three months later in an impromptu ceremony in Hawaii. Six weeks later, Jordin found out she was pregnant, and even though the baby wasn't planned, and the couple was overwhelmed at first, they soon started to get ready for their baby.
The "American Idol" alumni gave People magazine the details about the birth of her son, as she revealed she had an all-natural water birth, and her husband was there to catch the baby out of her. She also explained that the boy had his umbilical cord around the neck, but luckily, they had a midwife to help in case of emergency.
"I didn't see it because I was facing the other way," Sparks explained, and added that at the time, Dana was like, "I don't know what to do." "He said it almost looked like a scarf — it was wrapped around his neck and body." While Dana held their newborn son, the midwife took charge and unwrapped the cord quickly, "He took his first breath and then [Dana] handed him to me," Jordin said.
Isaiah also confessed that ever since the birth of the DJ, he and Jordin have become even closer than before. The handsome dad said:
"I feel like he makes us rely on each other even more because we both have to check in more. Not "check-in" in the sense of "hey, what are you doing?" but like, even when I go to the gym in the morning I'm texting her like "hey, do you need anything while I'm out?" because you never know if he needs anything."
And Jordin added:
"There have been times when it's been really cool because there's a lot of unspoken cues that we have that, we don't even need to say something. Like, sometimes I'm just sitting there [with the baby], and he's like "ok, I'm gonna take him, I'll be right back, you go to sleep." It can be overwhelming, figuring everything out, but we're definitely closer."
We're glad to know that Jordin and her beautiful family are doing great, she has a beautiful baby boy, and we wish them all the best.
Please fill in your e-mail so we can share with you our top stories!