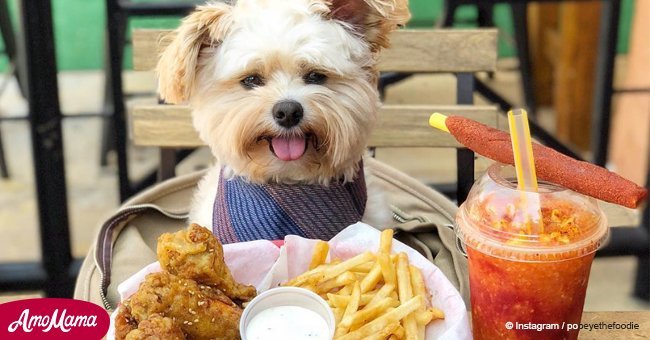 This former tramp now eats better than some purebred dogs
The pup was found on the streets a number of years ago, where he had been left to eat whatever scraps he could find lying around. Now, his life has drastically changed.
Popeye the crossbreed was rescued in 2014, and in the past four years, he has gone from a timid, scared pooch to a virtual Instagram celebrity, showing off his many lavish meals on his own account on the social media site.
The account, under the name of Popeye the Foodie, shows him with tables full of waffles, fries, smoothies, and pizzas, often while wearing bibs.
It is unlikely that the pup is actually indulging in these foods, as it has been made clear that he only eats dog-friendly foods.
Read more on our Twitter account @amomama_usa.
The pooch lives with his humans in Los Angeles and is often seen in trendy restaurants in the city dining out. His owners make sure to document these culinary adventures and share the images with his 324,000 followers.
The foods he's posing with are probably the meals of his owners, but certainly seem fit for a king, and Popeye looks to be channeling his inner "Lady and the Tramp."
Aside from indulging in delicious foods, Popeye is also seen dressed to the nines on his Instagram account. He can be seen in bibs, jackets, and even costumes that make it look like he's holding a guitar or wearing a pair of sunglasses.
Popeye's owner, Ivy Diep, spoke out in 2017 about her pooch, sharing that he was a very different dog when she rescued him.
"When we first had him, he was timid around food and snacks. He also didn't really play with toys; he only played with our sweater sleeves. He's now more comfortable with snacks and is more playful with toys. He likes to bark at new dogs. And sometimes bark at people. However, once they give him a little treat, he becomes their best friend."
Aside from his hobbies, Popeye also makes official public appearances. He is currently scheduled to appear at PetCon in New York City in November 2018.
Please fill in your e-mail so we can share with you our top stories!