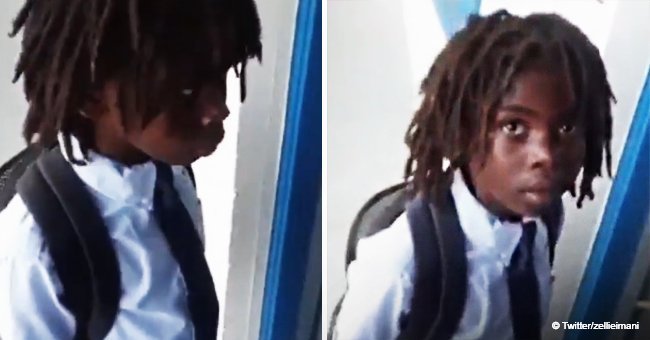 Six-year-old black boy kicked out of school for dreadlocks
The young boy was dressed and ready for the school day, but was told by staff that he would not be allowed to attend unless his cut his dreadlocks off.
Clinton Stanley Jr was looking forward to his first day of school. He had gotten up early, dressed smartly in his button-up shirt and pants as per the school dress code, and packed all his books for the big day.
But when he arrived, he was met with the shocking news that he couldn't come into the school with his current hairstyle. The explanation was that the dreadlocks didn't fit the Florida Christian School's dress code.
Clinton Jr looked utterly devastated as he was repeatedly told he couldn't come in, looking up at his father, Clinton Sr. for help.
Clinton Sr. was just as shocked, and couldn't understand why his son's hair is a problem when all the school is supposed to do is educate him.
"My son just got told that he cannot attend the school with his hair," Clinton Sr. said in the video footage he recorded of his son being turned away from the school. "If that's not biased then I don't know what is. Personal opinion. That's crazy. He ready to go to school, but he can't."
Clinton Sr. repeatedly tried to reason with the staff member inside the school, but she wasn't interested in listening to reason, and told him he would need to unenroll his son from the school.
He even tried to point out that her hair was hanging past her ears, throwing back the role she had cited for his son in her face.
"What's the difference? … That's a rule, I respect that. It's just not right. It's not. That's not very disrespectful and biased. I should have been told this months ago."
Fortunately, Clinton Sr. was able to find a better and far more welcoming environment for his son to be educated in, and the next day another Twitter post surfaced, this time showing the beaming boy in a different uniform, wearing his dreadlocks tied up on top of his head.
Please fill in your e-mail so we can share with you our top stories!