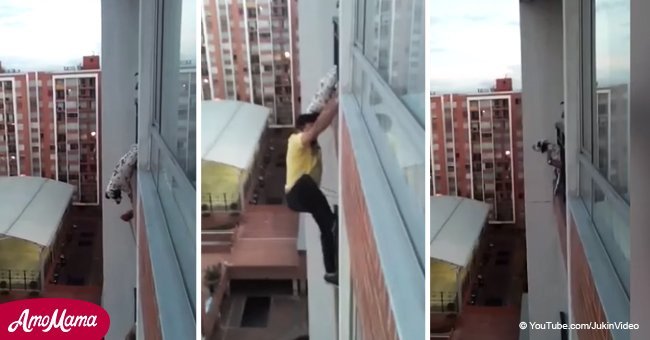 Chilling moment man climbs to the 13th floor to save a dog hanging from a balcony
Love for animals can put people's lives at risk.
This is a video that shows how a man risks falling from a height of tens of meters to save a dog in Bogotá, Colombia.
In the footage, posted on Facebook on April 16, you can see how this 'hero' climbs the wall of a building without any restraint to rescue the dog that had been trapped between the bars of a terrace.
According to The Dodo, last week Diego Andrés Dávila Jiménez, a young man who lives on the 13th floor of a building in Bogotá, discovered that his neighbor's pet had been trapped between the bars of the balcony, and was hanging in the air held only by the hind legs.
After realizing that the owner of Luna, the name of the pet, was not there and that the emergency service was not arriving, he decided to ask the people who live on the floor below to enter his house to help the dog.
More than 3.8 million people have seen the video entitled 'Hero without a cape', where the text that accompanies the images identifies the man as Diego Andrés Dávila. Read more on our Twitter account @amomama_usa
"A neighbor (an angel on Earth) named Diego Andrés Dávila Jiménez is the one who makes the decision to risk his own life and save that of the dog," said the video caption.
After attempting the rescue by pushing the dog up with a broom, Diego decided that the best option for the animal not to rush to the void was to go up himself and help him.
So without thinking twice Diego went up the balcony, climbed the wall and saved the canine's life. Fortunately, neither the man nor the dog suffered any damage.
It is not known if the occupant of that apartment was or not, or if he was alerted that his pet was in danger and that his neighbor saved the dog and needed someone to open the front door so he would not have to go back the way he came in.
This story reminds us of Mamoudou Gassama, the young migrant who got rewarded by President Macron after he climbed a building to save the life of a little boy who was hanging from the 5th floor.
Gassama's heroic action was uploaded to social media, and he received the nickname 'Spiderman.' The truth is that, without his help, nobody could know what would happen to the child.
Please fill in your e-mail so we can share with you our top stories!