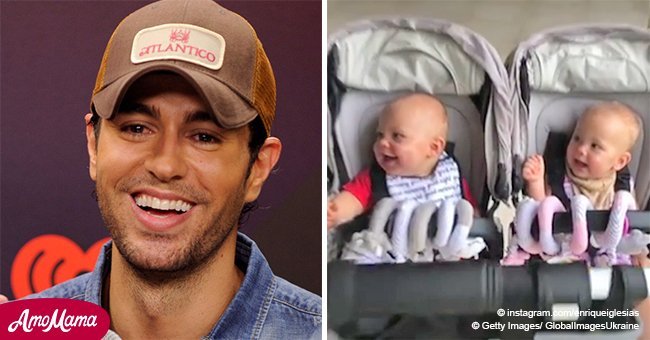 Enrique Iglesias shared a rare video of his laughing babies that quickly went viral
The father-of-two delighted his fans on Instagram with a video where he is seen playing with Lucy and Nicholas and taking great measures to make them laugh, becoming viral with his funny antics.
Spanish singer Enrique Iglesias, 43, is very protective of his private life, but the recent arrival of his children has motivated him to share with his Instagram followers the happiness that this stage of his life gives him.
For years, the son of Julio Iglesias has been very discreet with his publications in social media, as he mostly published things related exclusively to his career. But nowadays his tender babies have monopolized the interest of his fans.
Nicholas and Lucy, the charming twins, have taken center stage in the official Instagram account of Iglesias. Read more on our Twitter account @amomama_usa
In a video uploaded on August 31, their father has tried to make them laugh at all costs and has ended up running from one place to another making the characteristic sound of a turkey.
"Tough audience to entertain," Iglesias captioned the hilarious and adorable video he shared with his 13 million followers in the social network, adding a pair of laughing emojis.
The video reached more than 400 thousand reproductions and thousands of comments on Instagram in less than a day, and as of September 3 it has been played more than 2 million times.
"Best father of the world," commented user @adele_pv. "Adorable! They sure love it when 'daddy' acts goofy!" added @wanda_iglesias.
"Becoming a father changes everything. Not so much in my way of thinking, but in my priorities. It is an incredible happiness, but also a great responsibility and I know that I want to continue enjoying my passion, which has always been writing songs and interpret them."
-Enrique Iglesias, Quién, August 16, 2018.
Iglesias and his partner of 16 years, former Russian Tennis star Anna Kournikova, welcomed their twins in December 2017, after keeping the news that they were going to become parents for the entire 9 months of the pregnancy.
In a much darker note, Iglesias recently became the center of a controversy surrounding his inappropriate behavior on stage during one of his shows after he was caught on video shamelessly groping one of his backup singers.
Unsurprisingly the gesture did take long to raise controversy in social media, with some people criticizing him while others justified the episode by considering just part of the show.
It seems that creating controversies is something that can be inherited. Julio Iglesias always made headlines with his scandals, and the apple doesn't fall far from the tree as his most famous son keeps doing the same.
Please fill in your e-mail so we can share with you our top stories!