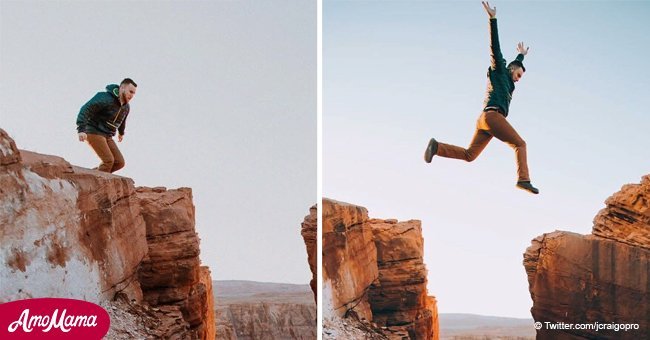 Man forgets to tell mum about hike and she initiates a full-on police search for him
Well, that escalated quickly!
When Jordan Craig left home to embark on a two-week trip to the Grand Canyon the last thing he expected was to find out that he would be listed as a missing person.
Not only did he probably not realize his mother's ability to worry at that time like any other mother probably would. This was also a case where Jordan failed to anticipate what a simple act of forgetting to tell her about his hiking adventure could result in.
After days of not being able to reach Jordan via his phone because her calls were going to his voicemail and her text messages remained unanswered, his mom, Chrissy Staggs sought the help of his friends. However, this too was also unsuccessful. Soon enough his Twitter followers joined in the search for him and she also contacted the Arizona police.
With the Grand Canyon popularly known as a remote location not having any phone signal would have been no surprise. A two-hour hike to the village allowed him to get WiFi access.
When he did get service on his phone and he saw the messages, he immediately let her know where he was and that there was no service.
Then he was flooded by notifications on his phone which alerted him to the situation at hand.
I immediately thought it was hilarious.
After that, I went through all my social media and saw that my mom had posted on my Facebook, tweeted at me, and even asked some of my Instagram followers if anyone knew where I was. At that point, I was a little worried that something had happened.
Eventually he was able to get reach her.
She had called police departments and checked my phone records and called my Airbnb in Sedona where I last stayed and had even called into work (ICU Nurse) so that she could continue looking for me.
With the gruesome discovery of the bodies of Shanann Watts and her two daughters two days after they were reported missing by her husband, Chris Watts it is no wonder why Chrissy Staggs was concerned about her son's safety. Chris Watts was later arrested for their disappearance,
Also with Newport, North Carolina resident Kristen Ashley Bennett still missing it provides a reminder of the dangers lurking around and the need to maintain proper communication with those we love.
Please fill in your e-mail so we can share with you our top stories!