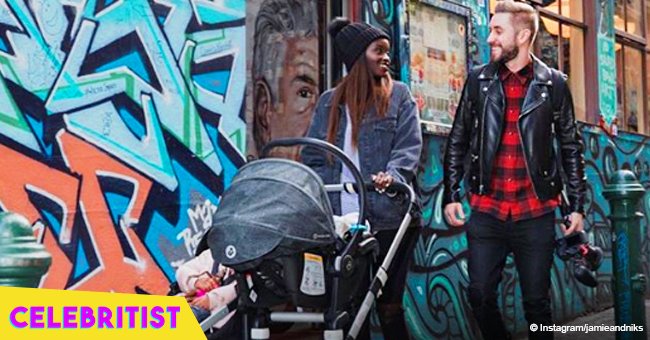 They look like an ordinary couple, but their kids' unique appearance makes the internet freak out
Jamie and Nikki Perkins became a social media sensation after the video of his proposal became viral in 2012. Now, the couple has expanded their family with two little girls, and they're gorgeous.
Jamie and Nikki tied the knot five years ago, and since then, they started to profit from their YouTube channel, vlogging about their daily lives and documenting the growing process of their adorable family.
The couple first earned attention for being a biracial pairing, something that was not welcomed in society a few decades ago and that people these days celebrate event though it should be a regular thing by now. Now, however, they have become social media darlings and have more than 1 million of subscribers on their channel and almost the same quantity of followers on their Instagram accounts.
Nikki, 28, was born in Sudan and migrated with her family to Australia when she was 4-year-old. While her family appreciated privacy and leaving a quiet life, she started to work as a model, and by the time she met Jamie through MySpace in 2009, she was working for IMG models in New York.
They dated for four years before Jamie decided to propose, and since he knew Nikki was always watching grand proposal videos, he wanted to do something epic for her too.
"I created a video that played in Federation Square, and Nikki sat in front of it to watch. My friend filmed it and we uploaded it to YouTube to share with the family," the now 34-year-old said to the Daily Mail.
THE JUMP TO FAME AND ITS BENEFITS
But what they never expected was for their video to earn millions of views and likes from people all over the world. Viewers took an interest in the couple, wanting to know more about them and their story, and that's how their channel was born.
"It all started as enjoyment," Jamie said to Buzzfeed. "We weren't doing it because we could make money, but when we realized we could supplement our income by doing something we enjoyed doing as a hobby, it was great."
The happy couple welcomed daughter Ava in 2016, and a few months ago, Nikki gave birth to their second child, daughter Zoe Reign. Having a steady income through their videos also gift the couple with more time to spend with their babies.
Both girls inherited their mom's dark hair and eyes, and they have brown skin, the perfect mix between Nikki and Jamie.
Is common for darker tones to prevail when a mixed couple has children, but sometimes the lighter treats can win in the battle of the genes if they're strong enough. That's the case of a pair of gorgeous twin girls from Philadelphia, Pennsylvania.
MEGAN AND MORGAN BOYD
The 7-year-old twins have also become an Internet sensation in the past years. Their mom, Stephanie Boyd, started posting pics of the girls since they were toddlers, and their beautiful bright blue eyes immediately garnered them a significant following on social media.
Is not common to see people of color with blue eyes, and even the girls' mom is aware of that, so from the moment they were born, she knew they had to become famous.
While Megan has both eyes blue, her twin Morgan has one blue eye and the other dark brown – a rare combination. The condition, known as heterochromia, is not that uncommon for the girls' family. They have an uncle and great aunt with the same appearance.
Megan and Morgan enjoy modeling and playing around with clothes, and her mom believes they have a future in the fashion industry, whether it is in front of the cameras or behind them.
These days is regular to see beautiful people of all shades increasing in popularity, as the younger generations are embracing a broader concept of beauty that's not limited to the white lenses of the industry.
Please fill in your e-mail so we can share with you our top stories!