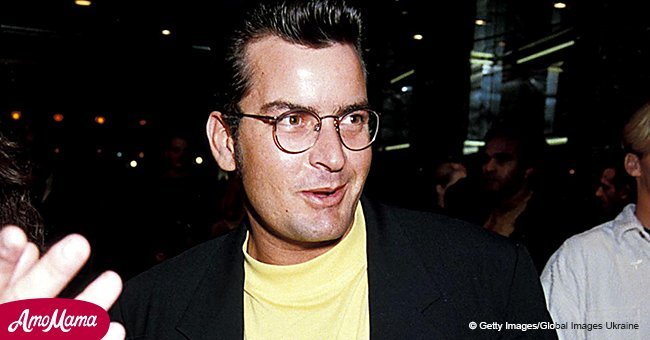 Charlie Sheen shares a rare pic of his twin nine-year-old sons

Charlie Sheen, 52, posted a photo of twin sons Max and Bob a couple days before his birthday, and his followers were amazed at how handsome they looked.
The 9-year-olds are from Sheen's relationship with ex-wife Brooke Mueller. The two have a troubled history of drug abuse and custody battles.
The actor does not often do family photos on his Instagram page, but the photo is one he's really proud of. Plus he wanted to make sure both boys were happy.
He captioned the post:
"Please follow this young man, or his twin bro will be really upset!"
The adorable boys stood in front of a lush green background. They were well-dressed, both in a white undershirt. One had a white button down and the other a blue.
The brown-haired kids wore pretty serious expressions as the sun shone directly into their faces. The resemblance to dad Sheen was apparent.
In addition to his youngest twin boys, Sheen has a daughter, Cassandra Estevez, 33, with ex Paula Profit. He also shares two children with ex-wife Denise Richards: Sam, 14, and Lola, 13.
Sheen, who has had ongoing alcoholic abuse problems, spoke to ET about ex-wife Richards' upcoming appearance on "The Real Housewives of Beverly Hills."
"I don't really watch that," he said at Project Angel Food's Angel awards in LA. "No, but I know it's a really popular and good for her. I'm sure it's going to be a ball, you know?"
Later on, in August he also told The Blast that there's a possibility he might be on the show, as Richards had hinted before:
"It's not been confirmed. If they're rolling and I pull up to drop off one of the girls, then I'll be on it."
This comes after Sheen confidently mentioned a return to TV at the Project Angel charity event.
He explained:
"I've been reading a lot of stuff and meeting with a lot of people. So, it's only a matter of time."
Please fill in your e-mail so we can share with you our top stories!