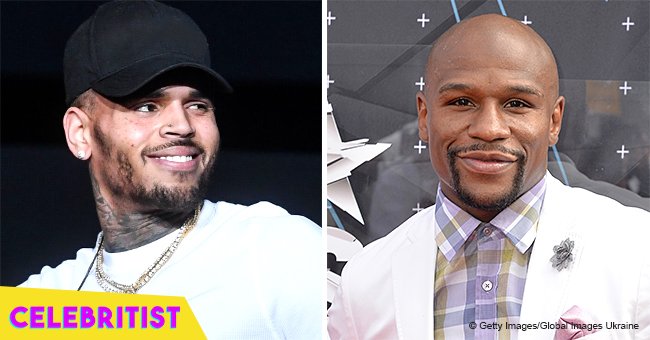 Floyd Mayweather reportedly gave $20K present to the mother of Chris Brown's daughter
Chris Brown has just discovered his baby mama had been gifted by Floyd Mayweather with $20k. The singer who's currently fighting with his daughter's mother over child support had a bitter past with the boxer which may explain why he backed Brown's ex.
A recent deposition involving Chris Brown and his baby mama Nia Guzman revealed Floyd Mayweather had supported Guzman financially.
Brown's legal team was questioning Guzman's motives for requesting an increase in child support for her 4-year-old daughter, Royalty, whom she shares with the singer, and it was discovered during the interrogation that Mayweather had gifted Guzman with $20,000 in the past.
Guzman had previously claimed she only made an income of $400 a month from RoyaltyBrown.com which is an online clothing store inspired by her daughter. She revealed the company began with a $20,000 capital that was given to her by a friend as a gift. When prompted about who the investor was, Guzman hesitated to say and instead said he was a "silent friend." After further prodding, she eventually spilled her benefactor was in fact, Mayweather. She justified the boxer's contribution by saying they'd been friends for more than a decade and that she was also close to the mother of Mayweather's child. When Mayweather found out she wanted to start a company, she said the heavyweight champion offered to help at no cost.
Granted that Mayweather and Guzman were friends, many suspect his donation had more to do with his friction with Brown. Years back, the R&B singer was set to participate in a celebrity boxing match promoted by Mayweather. He was going to fight against Soulja Boy who Mayweather publicly backed. Prior to the fight, the competition between Brown and Soulja Boy escalated that it came to a point the latter shared a photo of Brown's daughter wearing Mayweather's "TMT" merchandise. Guzman chimed in and also posted a photo of her daughter at Mayweather's gym. The boxing match never took place and was canceled with no reason provided.
As previously reported, Guzman filed for an increase in child support after feeling shortchanged considering the amount of money Brown earns. Brown countered her claims and said she was only using their daughter to get more funding for herself and not Royalty. It's possible Brown was also piqued by the discovery of Mayweather's involvement with Guzman's business provoking the singer to keep a tight fist.
Please fill in your e-mail so we can share with you our top stories!