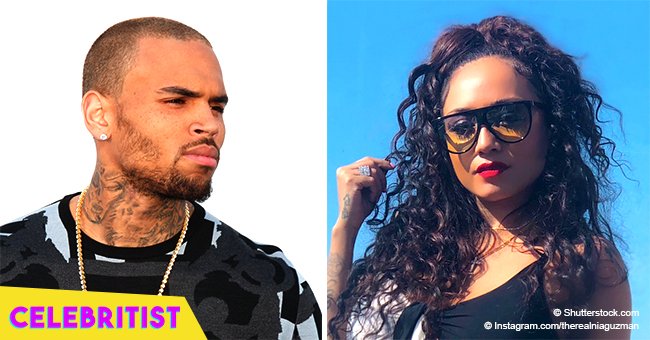 Chris Brown's baby mama Nia Guzman reportedly files for massive increase in child support payments
Chris Brown's baby mama Nia Guzman has reportedly gone back to court demanding for more child support money to raise their 4-year-old child, and this has caused a feud between the two parents.
Sources from The Blast have discovered that Nia has indeed gone back to court in California to file documents asking for more child support. For what seems to be a gruesome battle, she hired attorney Lisa Bloom to win the case.
The hip-hop star, who has not been afraid to share how hard he's been working to make sure he can provide for his daughter Royalty, is currently paying $2,500 per month in child support, and another $4,000 for a nanny, who happens to be Nia's mom.
According to the documents, Nia stated that Brown earned an average of $4,269,067 in the last two years, which can be broken down to $350,000 a month. According to the child support laws in California which are solely based on income, Guzman says she should be receiving more than $21,000 per month. She also claims that given the law, Brown now owes her $250,000 in retroactive child support.
Brown is not having it, saying that Nia is doing it for the money. He is definitely planning to fight her in court over the increase, given the recent statement of Royalty's mom saying she's been spending so much on their 4-year-old. She says that her monthly expenses and bills include $3,300 in rent, $3,500 in food, and $4,500 in clothes and entertainment for Royalty.
Nia says that things have been so bad for her financially that she had to ask her friend to lend her money to take Royalty to Six Flags because she couldn't afford to buy tickets. She adds that although she wants to take her daughter to many places such as Lego Land, she cannot afford anything due to her tight budget. For her own income, Nia only makes $400 a month off an online store inspired by her daughter.
The judge agreed with Nia, but could not order the new amount she asked for because the court needed time to review all of Brown's financial documents. A decision is set to come next week.
This new court case is quite ironic for many, especially since Nia spent a grand $30,000 on her daughter's 4th birthday party earlier this year. It seems like aside from her normal day-to-day expenses, she has been splurging on some things for her daughter that could have easily been avoided.
Please fill in your e-mail so we can share with you our top stories!