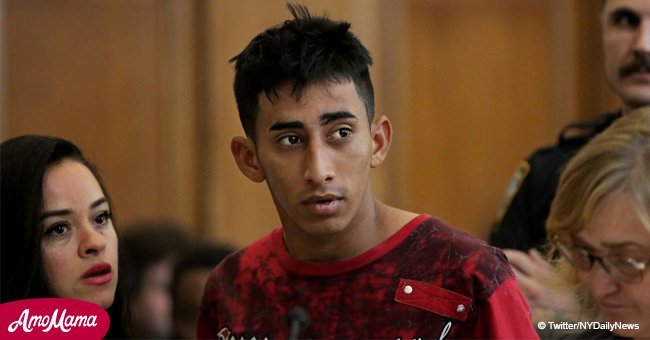 Fake Green Card holder allegedly raped an 11-year-old girl

18-year-old Julio Cesar Ayala was arrested by the NYPD last Saturday for an alleged rape crime against an 11-year -old girl while her brother slept on the bottom bunk.
The incident occurred in a Brooklyn home on the second floor of the family's house at about 11:30 p.m. last Wednesday.
The man is also suspected to be a member of the transnational criminal MS-13 gang.
Ayala, originally from El Salvador, reportedly climbed up to the floor and squeezed through a small opening next to the AC unit on the window.
Follow us on Twitter for more @amomama_usa.
NY Daily says that when Ayala entered the room, he began shifting things on the dresser. Then the terrified girl watched as he put a red Chicago Bulls hat on her dresser, switched the light on and off, and approached her.
He went up to the top bunk and committed the sexual assault on the poor girl. She screamed, bringing her mother to her room. But Ayala had already left.
Nearby security cameras captured the man as he ran into a building on E. 21st St., then fleed through a window when police arrived at the location.
More surveillance video showed his attempt at disguising himself by changing into a sweatshirt before walking from Parkside and Flatbush Avenues to Ocean and Church Avenues.
Police captured Ayala on Saturday in an under-construction building when they received a call after releasing the video. During the arrest, community members gathered around and rejoiced.
Incredibly, Ayala admitted to the act, but said, " I have never done anything like this before." He had a forged green card and Social Security card on him when he was detained.
His Legal Aid Lawyer, Anna Boksenbaum, tried to undermine the case against him by pointing out the young girl didn't pick Ayala out of a lineup, and by referring to it as a mistaken identity situation.
She appealed by saying, "I question his ability to fully comprehend what was happening. There might have been confusion about what was happening."
The Spanish speaker lives with family including an aunt, uncle, and two cousins in Brooklyn just a few blocks from where the attack took place. He works with his uncle in air conditioning.
Boksenbaum requested that Ayala get a psychological evaluation, but Judge Micahel Yavinksy has him on a $500,000 bail. He is due in court on Friday.
Please fill in your e-mail so we can share with you our top stories!