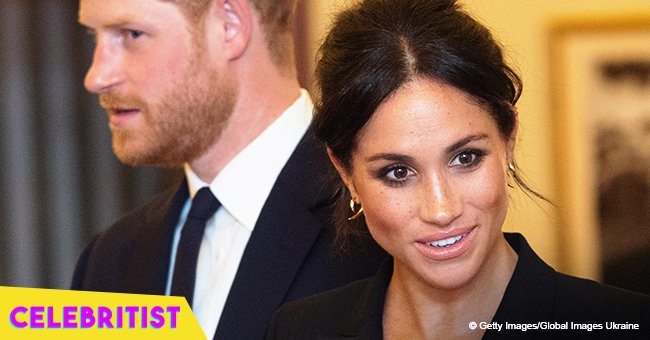 Meghan Markle steps out in chic black pantsuit with Prince Harry
Meghan Markle joined her husband, Prince Harry, on an emotional event where the royal couple got to honor sick kids and their caregivers. She looked stunning wearing all black.
The Duchess of Sussex made head turns, as usual, wearing a classy all-black look to a pre-awards reception ahead of the WellChild Awards, of which Prince Harry has been a patron for the last 11 years.
Markle wore a black pantsuit by Altuzarra paired with a blouse by Deitas, a black clutch, and stilettos. She wore a simple hairstyle by tying her hair on a messy side bun and kept a light make-up, proper to the occasion.
Just a few days ago, Meghan was facing some critics from royal fans after she allegedly broke a royal etiquette by no wearing nude thighs and showing off her bare legs. However, experts assured that there was nothing to worry about, as the Duchess has a team of royal aides that take care of every detail with her outfits.
On Tuesday, Meghan and Harry were pictured chatting with several of the winners of this year's WellChild Awards and their family members, a tradition for the Duke, who's always seen sharing hugs and warm smiles with the affected kids.
WellChild is an organization that helps severely ill kids to have the required support they need to live the most normal life they can while at home, instead of being permanently at a hospital. Their webpage states:
"Our vision is for every child, and young person living with serious health needs to have the best chance to thrive - properly supported at home with their families."
On his speech at the awards last year, Harry said:
"These awards were created to shine a bright light on an amazingly brave group of children and young people, on their lives, and on the resolve, they and their families have shown to overcome challenges. Life for families caring for seriously ill children is exceptionally tough. And without WellChild it is even tougher."
Meghan was caught on video having a special moment with 7-year-old Mathilda Booth as the girl prepared a flower bouquet for the Duchess. Prince Harry also joked with the girl, asking where his flowers were.
Mathilda, the winner of the "2018 Inspirational Child 4-6 years-Female" award, has Spina Bifida and is paralyzed from the chest down. She has had brain surgery in seven occasions and has gone under 40 procedures in her short life.
However, like many of the other kids honored at the awards, the girl keeps a positive attitude in life and is described as courageous, strong and determined. According to her mom, Mathilda wants to be a nurse when she grows up.
Please fill in your e-mail so we can share with you our top stories!