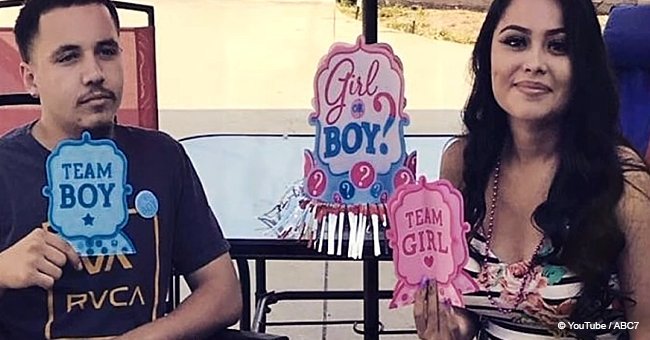 Young couple expecting a child died only a few days after their babyshower

Four residents of San Bernardino died tragically in a car crash on the 60 Freeway in Moreno Valley. Among them was a young couple who had been expecting their first child on October 12.
According to the LA Times, 21-year-old Valentino Ramos and 20-year-old Airyana Luna were not wearing seatbelts when they were killed in the accident.
Ramos and Luna were passengers of a white BMW which spun out of control at about 7:30 p.m last Friday. The front seats were occupied by Polo Najera Perez and Rafael Ramirez Espinoza according to the Riverside Country Sheriff's Office.
Follow us on Twitter for more @amomama_usa.
The California Highway Patrol said that the vehicle crashed into a center median and flipped over before landing on the opposite side of the Freeway.
Espinoza and Perez were ejected from the vehicle while Ramos and Luna remained in the backseat where they immediately succumbed to the effects of the crash.
The couple had just celebrated a baby shower and were planning to have another one at the end of the month.
Luna's aunt, Katrina Garcia, said of the deceased woman:
"She was excited for the baby. She was the kindest person, she had no bad intentions, very sweet and in love with Valentino." She continued, "They were a young couple in love."
She set up a GoFundMe page for funeral expenses for her niece. On it, she wrote:
"Two lives have been cut short and one life never got the opportunity to blossom due to this tragedy."
A page was also created for Ramos. It disclosed that the couple was leaving a casino when the accident occurred.
California Highway Patrol Officer B. Johs revealed that "Alcohol is suspected to have been a factor in this collision."
Additionally, witnesses hinted that it may have been a result of street racing. Johs said that police are currently looking for a dark 2017 or 2018 Honda Civic that may have been involved.
A female who was also part of the pileup survived the crash. The Colton resident, 19, was left with only moderate injuries. She was taken to the Riverside University Health Systems.
Another heartbreaking death took place back in June. Aaron Daniel was a new father to a little boy but sadly would not enjoy fatherhood for very long.
He was among three others who died during an accident that arose from a police chase. The police department said Daniel fell victim when a Jeep T-boned into him as it tried to avoid cops.
Daniel's mother, Wendy Daniel-Williams was left distraught, while his partner and baby were still in the hospital at the time of the horrific tragedy.
The 24-year-old driver, Victoria Brown, has been charged with three counts of second-degree murder so far.
Please fill in your e-mail so we can share with you our top stories!