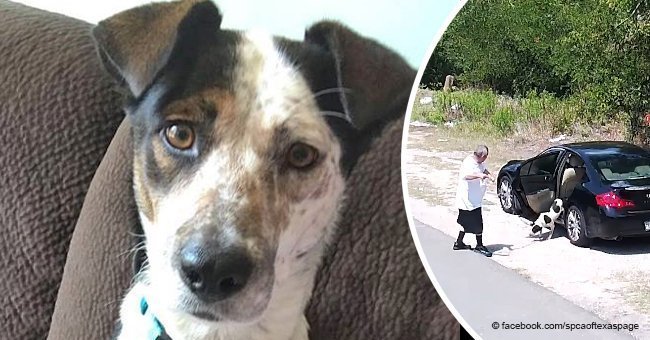 Man has been charged with animal cruelty after secret camera caught his disgusting behavior

Spears, 62, surrendered to the police claiming that he threw the puppy on the road to help his sister.
In Dallas, Texas, the security cameras captured how Gorge Spears took a young dog out of his sedan, to board his vehicle again, and leave the pet in Dowdy Ferry, an area known for being the scene of constantly abandoned animals.
According to Dallas News, the Animal Commission of Dowdy Ferry reviewed the video to find the dog known as KD, who like many other dogs, are left to their own devices in the area.
Shortly after Gorge's disheartened act, an arrest warrant was issued, according to the WFAA report. When the police officers knocked on his door, the accused admitted abandoning the dog, in order to help his sister, who because of diabetes was not able to care for the 1-year-old puppy.
Read more on our Twitter account @amomama_usa
THE CAMERAS WERE INSTALLED TO AVOID THESE ABANDONMENTS
It should be noted that security cameras installed in the place, exist because of the high rate of abandonment of pets at that specific point. Spears was simply the first to be captured on video, but unfortunately, like him, there are many more.
Reshareworthy announced that the Animal Commission of Dowdy Ferry, with the help of volunteers, devoted themselves to searching all night long for KD, whom they found in the morning, wrapped up in the ground.
"This marks the beginning of a united collaboration between the Texas Animal Commission and the Dallas Commissioner's Office, in the continuing efforts to bring down animal cruelty in Dowdy Ferry and the surrounding areas"; declared the Texas Animal Commission.
AT THE END JUSTICE WAS DONE
Luckily, the dog quickly got a new and permanent home, along with Reagan Henderson, who adopted her and is now more than happy to have made her the newest member of her family.
"Thanks to the people who rescued her and to the Animal Commission for joining us, my heart is full of love and gratitude"; said Henderson.
Stories like these continue to appear day by day, in which animal cruelty takes over those who do not understand that pets also feel. At least this time justice was done and now Spears is facing charges of animal cruelty.
Pet owners must understand that animals suffer greatly when they are abandoned, for them it is the same as losing a parent. The change of home when they reach a shelter and the loneliness affects them deeply.
An example of this is the case of a pit-bull female dog that was recorded crying for hours after her owners left her in a shelter claiming they could no longer take care of her. It is touching to see the tears that come from his eyes.
Please fill in your e-mail so we can share with you our top stories!