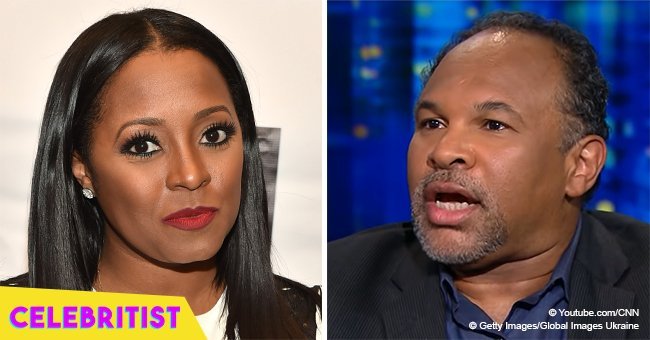 Keshia Knight Pulliam reunites with Geoffrey Owens after 10 years to support him amid job-shaming

As more people continue to come out in defense of Geoffrey Owens who was recently job-shamed, the actor's "Cosby Show" co-star, Keshia Knight Pulliam, has also lent her voice to the movement.
Pulliam, who played Rudy Huxtable in the favorite 80s show, had not seen Owens for ten years before yesterday when ET Online arranged a FaceTime reunion between the two. Owens, 57, was at an interview in New York when he received Pulliam's call.
The "Beauty Shop" actress looked stunning in a burgundy shirt with plunging neckline as she began:
"You're causing quite a ruckus"
"I didn't mean to," Owens replied cheerfully.
Pulliam continued to assure her former co-star of her support and commended him for looking out for his family. She said:
"Well look, I'm proud of you. People need to know, as a working actor, you need to do what you have to do for your family, and there's nothing wrong with a hard day's work."
Owens thanked the actress and went on to channel his humorous side, reminiscent of the famous "Elvin Tibideaux" character he played on "The Cosby Show." He joked:
"Thank you. I appreciate that. Now tell me something 'which Trader Joe's do you work at?'"
"You know, I haven't applied yet," Pulliam replied, playing along.
Pulliam's gesture of support comes on the heels of many others that have trailed the release of photos showing Owens working as a Trader Joe's cashier.
Addressing the photos for the first time since they were released, Owens confessed yesterday that the reactions have been amazing:
"It's really overwhelming, in a good way. I kind of feel like that character in that Woody Allen movie that wakes up one morning and he's a celebrity all of a sudden … it came out of nowhere. I really want to thank everybody out there … for the incredible support, the amazing support and positivity that they've shown for me. It's quite astounding."
The acting tutor also used the opportunity to highlight "the honor of the working person, [and] the dignity of work," stressing that no job is better than another.
You can read more of what he said here.
Please fill in your e-mail so we can share with you our top stories!