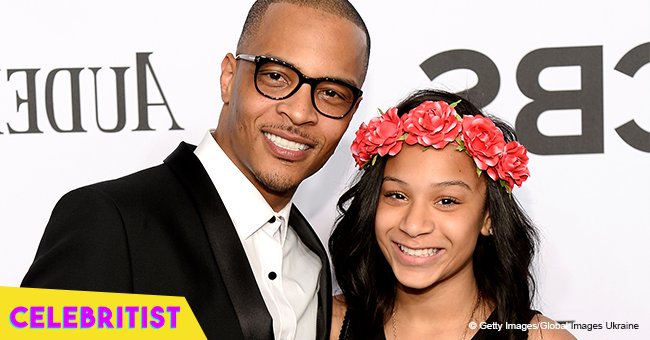 T.I.'s grown daughter Deyjah flaunts tiny waist in yellow crop top & distressed jeans in photo

Deyjah Harris, one of the children of rapper and actor T.I., took to Instagram to share a slideshow of herself posing in a balcony while wearing a very sexy outfit.
In the first photo, Deyjah appeared wearing blue jeans that were ripped at her thighs and a yellow crop top that enhanced her figure. One of the most striking aspects of the image was how tiny her waist looked.
Her straight hair was let loose over her shoulders and, as for the accessories, she put on a silver watch and a black purse. Deyjah was putting some lipstick on, an aspect that made her look very sexy.
For the second part of the slideshow, the 17-year-old girl was wearing the same clothes but posing in a different – and more serious – way.
In the caption, she wrote: "y'all sleepin' on me huh, had a good snooze? [sic]" Apart from that, she tagged all the people involved in her outfit.
As soon as Deyjah uploaded that post, her followers took to the comment section to share their thoughts. One of them was Lisa Chapman Jones, who pointed out that she looked pretty.
The user added, however, that the girl should not get too skinny as she noticed that Deyjah reportedly had been losing weight.
WHO IS DEYJAH HARRIS?
She is rappers T.I. and Ms. Niko's daughter, and she was born on June 17, 2001. Deyjah has several siblings and half-siblings, including Domani, King, Major, Messiah, Heiress, Zonniquem Jaela, and Soniah.
AN INFLUENCER
Given the fact that Deyjah is the daughter of two famous people, she has garnered more than 870 thousand followers on her Instagram account.
Consequently, she has been using her fame to promote several clothing brands, including Pretty Little Thing and Fashion Nova.
T.I.'S BIRTHDAY MESSAGE FOR HIS DAUGHTER
When Deyjah turned 16, her famous father took to Instagram to post a video followed by a lengthy and heartfelt caption to honor his daughter on such a special day.
"Your growth, maturity, & humility continues to amaze me still after all these years. You have a silent strength that comes from an abundance of modest, quiet confidence I don't even think you know you have yet," pointed out T.I.
The rapper added that his daughter had his best parts which were qualities most people would "kill to have." Finally, T.I. added that Deyjah's future was brighter than anyone's eyes could behold.
"Your potential is limitless. You have everything you need to become ANYTHING YOU DESIRE!!! But no matter what that may be you'll always be good enough for me just the way you are [sic]." said T.I.
Please fill in your e-mail so we can share with you our top stories!