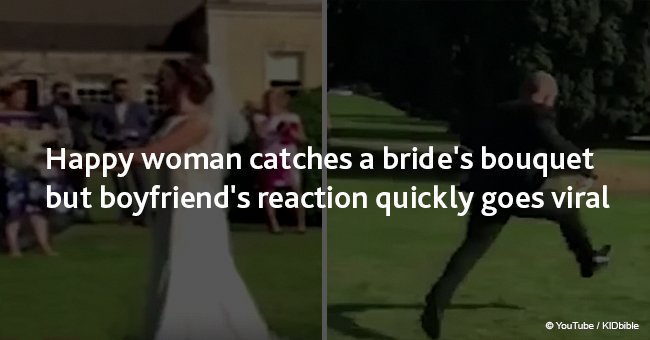 Happy woman catches a bride's bouquet but boyfriend's reaction quickly goes viral
At the reception of a Northampton wedding, one of the bride's friends caught her bouquet. The woman was overjoyed with her success, but her boyfriend ran for the hills, as seen in the viral video.
The boyfriend's reaction was very hilarious that the video had already reached thousands of views despite being uploaded a couple of days ago.
He was seen on camera quickly escaping towards the woods after seeing that his girlfriend caught the bouquet.
Supposedly, the possibility of being the next in line to get married was too scary for him.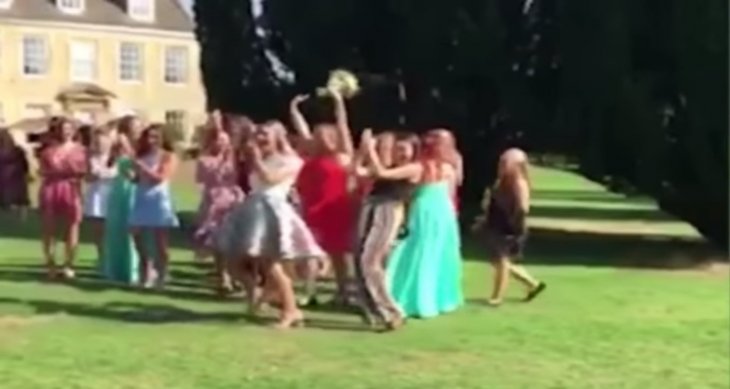 Source: YouTube
Follow us on Twitter at
AmoMama USA
for more viral stories and updates.
Daniel Gilbert ran with his might while holding a bottle in his hand while his girlfriend, Rachel Besley, was very happy to catch the flowers.
Besley's reaction was expected since about a dozen girls were trying to catch the bouquet thrown by the bride.
As per tradition, the women were all excited to be the one to catch the flowers, but Besley bested all of her competitors and held the bouquet up in the air and jumped for joy.
She was very happy until Gilbert started sprinting off and the guests laughed as he ran as fast as he could.
The ten-second clip proved to be a hit for online users all over the world, especially for women. Many female users commented that their significant others would probably act the same way if they were in Besley's place.
Catching the bride's bouquet has always been a tradition at weddings. Although, Reader's Digest revealed that it was originally done to cause a distraction.
The bride would throw the bouquet to prevent her guests from touching or ruining her gown.
Following that, she and her new husband would head off and escape to the bridal chamber.
That tradition is all in the past and at present, catching the bride's bouquet simply means that the lucky woman would probably be the next one to get hitched.
In another viral wedding, a woman proved how determined she was to show her love for her significant other when she walked on her own down the aisle despite her condition.
Before her wedding, she thought she only had a common cold, but it was something worse. It led to having her arms and legs amputated, and she had to get prosthetics.
For her wedding, she was determined to be able to walk. She forced herself to learn and eventually, she was able to do it on her own and even wore a long, white gown.
Please fill in your e-mail so we can share with you our top stories!