Man devises sneaky plan to get his cat to stop waking him up, but the clever pet isn't bothered
Mulder the cat figured out how to open doors and wake up his dad every morning. His owner wanted to end the madness but his cat turned out to be smarter. 
The video of the cat opening a door and outdoing his owner's well-formulated plan was shared on YouTube four years ago. 
In the video, Svenson flings his cat inside a room and closes the door. A couple of seconds later, the door handle moves, the door opens and out walks the smart kitty.
When his cat strolls out the door, Svenson can be heard saying, "You scare me." Read more on our Twitter account @amomama_usa.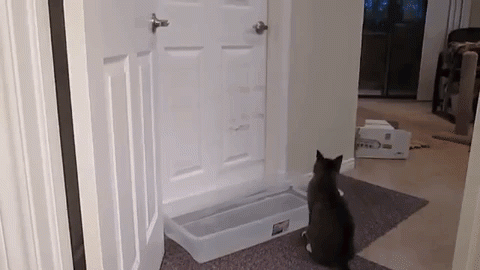 The frustrated owner thought of setting up a brilliant plan. He placed a tub of water right in front of his bedroom door and armed with a camera.
Svenson was hoping that his idea would discourage his smart cat from opening the door and disturbing him early in the morning. 
This type of deterrent should have worked based on Animal Planet's talk on cats' intelligence. The show explained that memories and information remain in a cat's brain forever.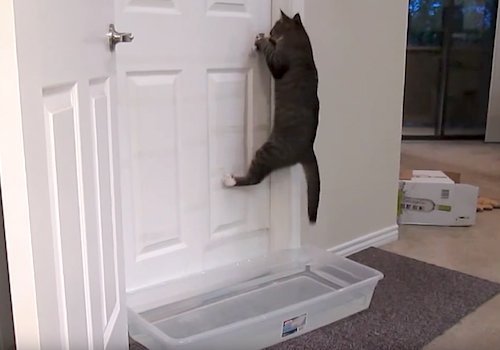 According to the theory, Mulder, by jumping above a big bucket of cold water, should have experienced something that he would not want to repeat. 
The video then cuts to another part, where the cat is sitting in front of a small tub of water placed in front of the bedroom door.
The makeshift moat blocks the cat's entry into the room. The cool cat moves around the bucket of water and jumps to catch the door handle from the side.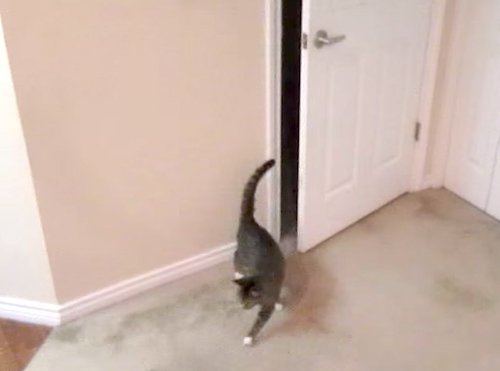 After repeating the same procedure a couple more times, the determined cat opens the door and enters the bedroom, by carefully avoiding the water. 
Another cat is determined to have a taste of his owner's sandwich and displays impressive skills to do so, proving that feline pets are one of the smartest pets. 
A video uploaded on Facebook shows the sneaky cat attempting to grab a slice of turkey when his human is placing the slices on bread to make her sandwiches.
The cat jumps up to the counter several times but every time he is lifted and set down on the floor by his human mother. 
He continues the same attempts until finally, he grabs a couple of slices of turkey when his owner moves away from the counter for a few seconds. 
Baron, the cat, stands by the door every day and calmly waits for the USPS mailman to arrive to deliver a letter at 12 p.m. 
The owners of the cat finally captured the footage of Baron's game on camera and shared his stunts on YouTube. 
As soon as the mailman drops the letter inside, the cat jumps towards it and catches the letter in his mouth and carries it away like a trophy.