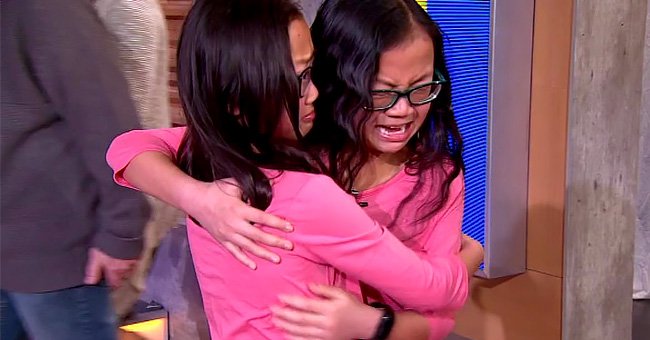 twitter.com/ABC30
Mother Discovers 10-Year-Old Daughter Has an Identical Twin after Stumbling upon an Old Photo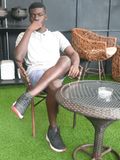 After stumbling upon an old photo, a mother discovered that her youngest child was a twin. However, she tried to give her daughter the most overwhelming Christmas gift by scheduling a reunion.
Since the invention of the internet, communication between loved ones and even strangers has been less challenging. This was the avenue where two entirely different parents from different states, one from Wisconsin and the other from Washington, met.
Their meeting fostered a happy reunion between their adopted twin daughters, who also met for the first time.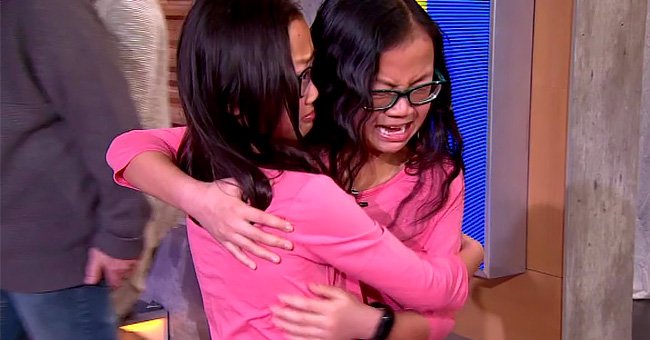 Picture of Audrey Doering and Gracie Rainsberry meeting for the first time | Source: Youtube/Good Morning America
THE TWINS' BIRTH AND THE AFTERMATH
Audrey Doering and Gracie Rainsberry were identical twins from birth. They were born in China, and before they became aware of their bond, the girls were separated.
The Doerings traveled to China and adopted Audrey, a toddler with a heart issue. Another family from Washington, the Rainsberrys, also considered having another baby, so adding baby Gracie to the mix was a beautiful idea.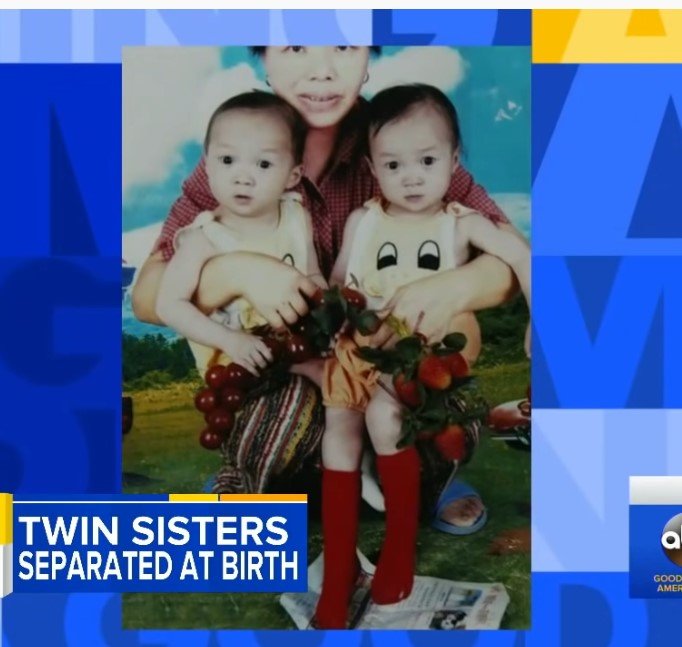 Picture of Audrey Doering with Gracie Rainsberry as babies | Source: Youtube/Good Morning America
AUDREY'S SPECIAL CHRISTMAS GIFT
Audrey begged her parents for a baby sister as a Christmas gift. Since she couldn't give her daughter that, Jennifer Doering wanted to find the perfect holiday package, leading her to investigate Audrey's background.
After enlisting the help of a Chinese researcher, Jennifer discovered a photo showing two babies posing with their Chinese foster mom—the babies looked alike, with similar outfits and hairstyles.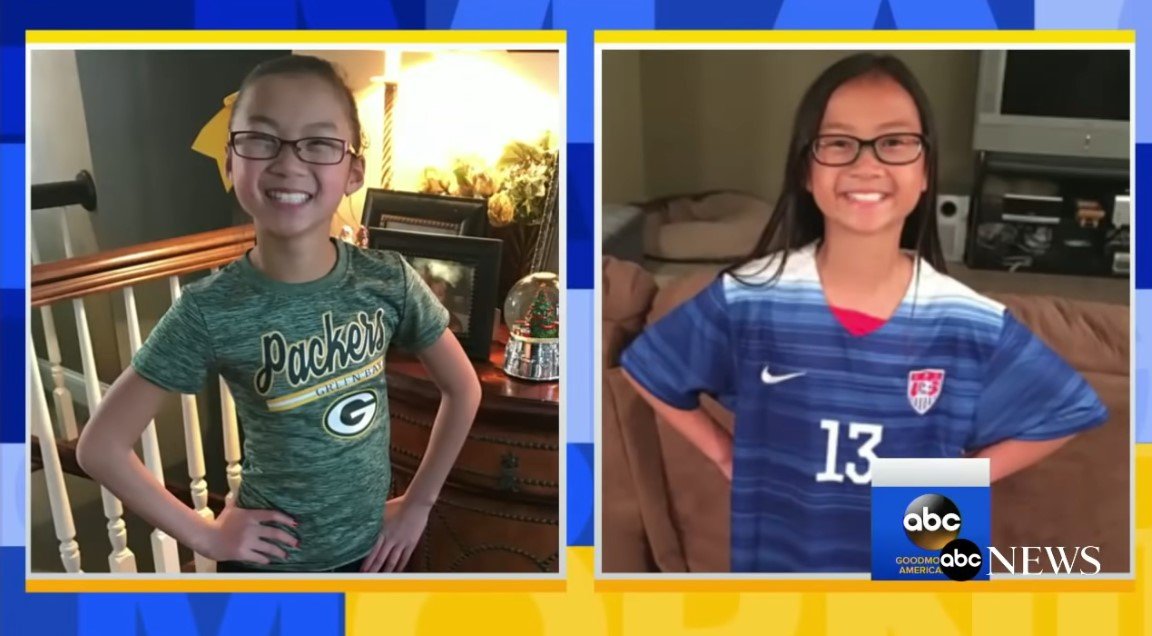 Picture of Audrey Doering and Gracie Rainsberry | Source: Youtube/Good Morning America
One of the babies was Audrey, but Jennifer was not familiar with the other look-alike. She explained that she was overwhelmed with desperation to find out about the other baby.
Once she realized the other child was Audrey's identical twin, who also lived in the US with her adoptive parents, she was confused, yet she set out to find Nicole Rainsberry, Gracie's mom.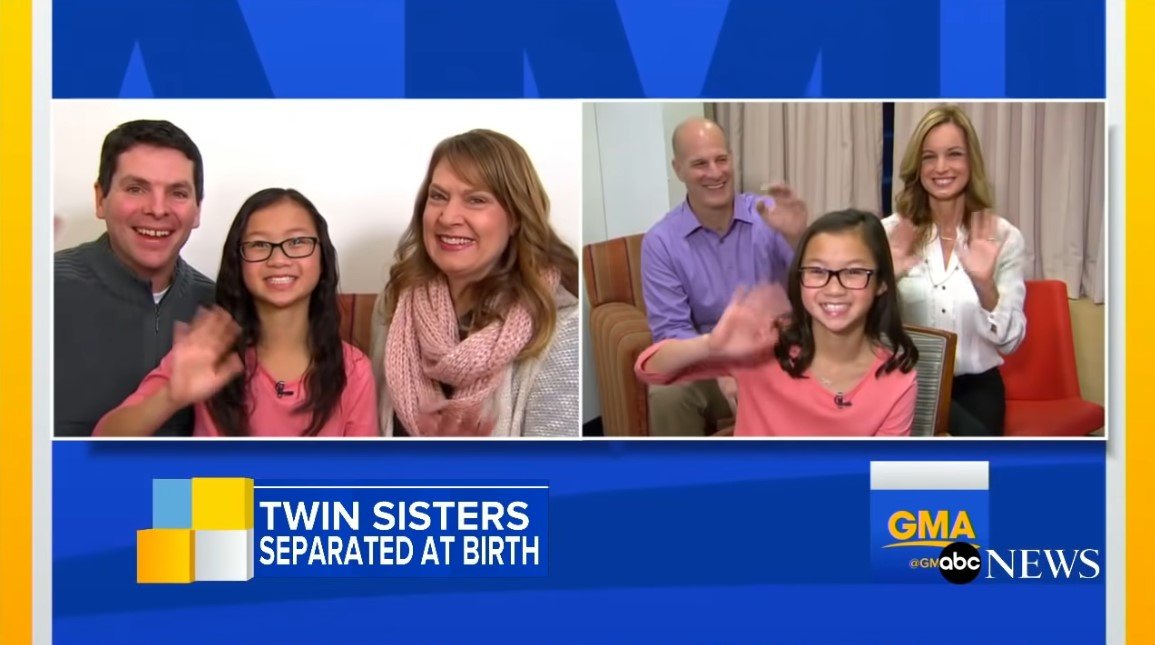 Picture of Audrey Doering and Gracie Rainsberry with their respective families | Source: Youtube/Good Morning America
CONNECTING THE TWINS
Jennifer scanned through numerous Facebook profiles until she finally found Nicole, a resident of Washington. Despite being miles apart, the women wanted their daughters to connect.
Like Jennifer, Nicole could not believe the resemblance between the now 10-year-olds. During an interview, she said:
"I mean, it's hard to process that information. It was so crazy to be looking at what looked like Gracie but knowing that it wasn't Gracie."
A HAPPY REUNION
After an agreement between the families and an established connection between the girls via regular communication, they decided to have a very public reunion.
The families reunited at the GMA studios in January 2017. Audrey and Gracie's similarities were outstanding, from their glasses to hair color, smiles, and even matching-colored outfits.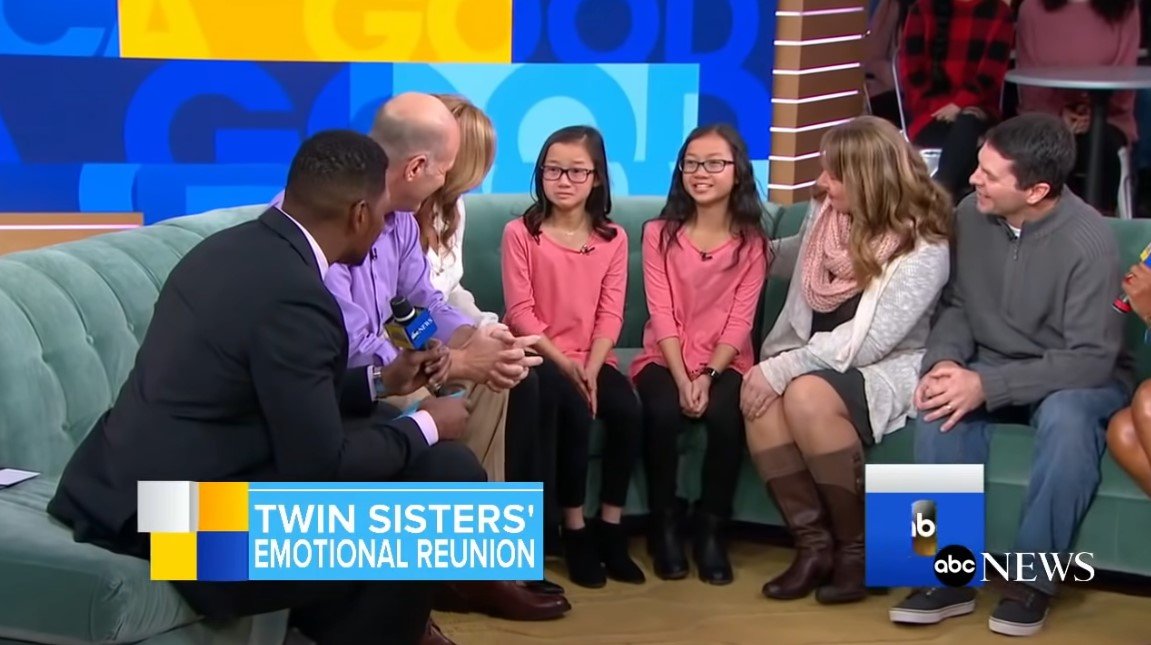 Picture of Audrey Doering and Gracie Rainsberry meeting for the first time | Source: Youtube/Good Morning America
They greeted each other with warm hugs, smiles, and tears. Despite their emotions, the girls confessed that they were excited. Audrey even added that she felt complete.
The Doerings and the Rainsberrys intended to make the girls bond more through regular meetings.
A SIMILAR REUNION STORY
Four years before the Audrey-Gracie story, two identical adult twins, Anais Bordier and Samantha Futerman, reunited after finding each other on Facebook.
Bordier grew up in Paris and studied in London with dreams of becoming a fashion designer. In December 2012, a friend sent her a photo of an actress on Youtube who looked exactly like her.
At first, she dismissed it when it was impossible to find the actress's name. But a month later, when the same friend shared a movie featuring the same person, Bordier was determined to find out who she was.
She contacted Futerman, a New Jersey resident, only to discover that they shared similar traits, looks, and birthdays. The women reunited first online and later physically. They became fond of each other and worked closely to produce a book and documentary about their lives.
Please fill in your e-mail so we can share with you our top stories!