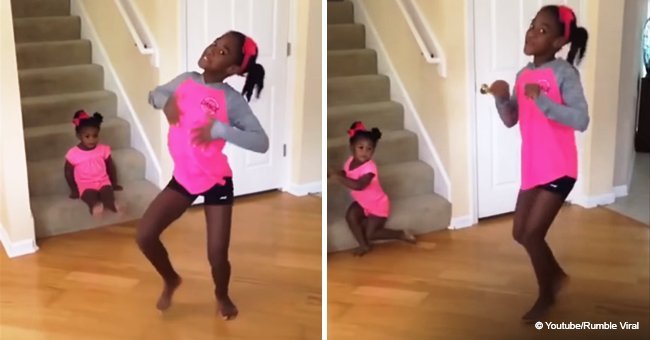 Toddler steals the show from big sister by dancing in the background in adorable video

Nyelle's intention with the video was to show off her skills dancing to Zay Hilfigerrr's "Juju on That Beat." Her little sister Nevaeh stole the show, though.
The clip, which has more than three million views on YouTube, portrayed Nyelle wearing a long-sleeved pink and grey shirt in the middle of the living room ready to start dancing in front of the camera.
Her toddler sister, Nevaeh, tried to join her, but Nyelle gently pushed her back because it was her moment to shine. The younger girl quickly sat down on the stairs and watched her sister's solo performance.
As soon as Nyelle started dancing, Nevaeh started moving her legs up and down as if she was trying to copy her big sister's steps without messing with her performance.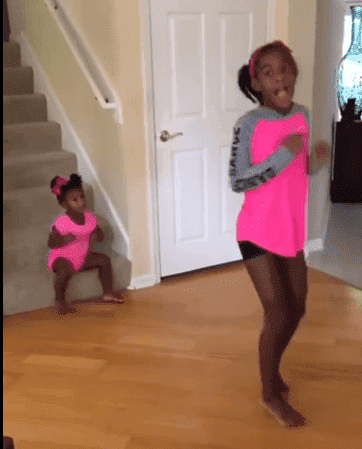 Source: YouTube/Rumble Viral
Then, as if both girls had made a choreography, Nevaeh started doing the same steps Nyelle in perfect synchronization. The sisters slid, did the dab, and some other moves. The best part of it was that Nyelle never noticed her little sister was dancing behind her.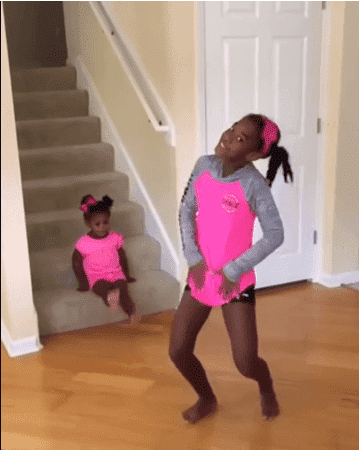 Source: YouTube/Rumble Viral
When that video hit the internet, Nyelle was nine years old, and her little sister was two years old. They are the daughters of NFL running back Chris Ivory, who posted the fun clip on Instagram.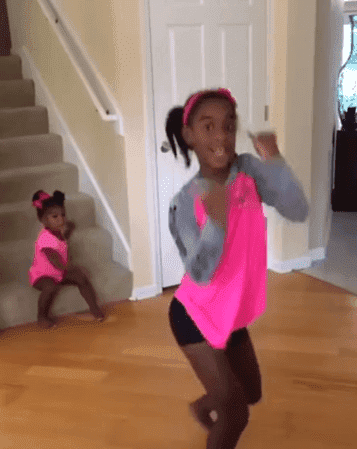 Source: YouTube/Rumble Viral
DANCING IS IN THEIR GENES
As Huffington Post reported, the fact that both girls could dance so well was not that surprising as their mother is Nicole Norman, a former NFL and NBA dancer and founder of the All-Star dance and Cheer Camp to educate and mentor girls.
ANOTHER GIRL AND HER CLEVER PERFORMANCE
Aaliyah proved that not only is she a talented dancer, but also has incredible balancing skills as her performance was on a hoverboard.
In the video that her mother shared, the girl appeared following the routine wearing a pink tutu, a white shirt, orange socks, and multicolored shoes. Apart from that, the hoverboard had neon multicolor lights that made everything better.
Please fill in your e-mail so we can share with you our top stories!