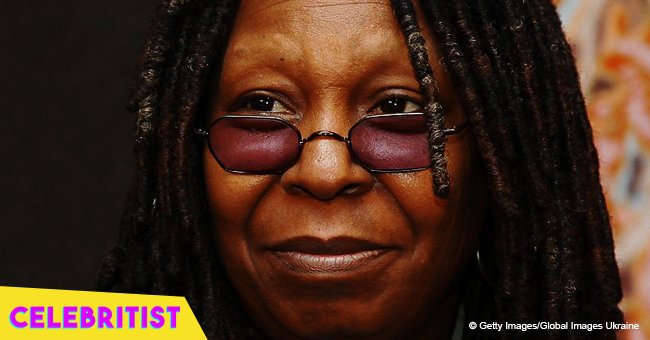 Whoopi Goldberg's daughter shares 'late post' of her mom in pink suit and matching hat
Alex Martin Dean, the only daughter of Whoopi Goldberg, recently shared a throwback picture of her mom's bright pink outfit at the CFDA Fashion Awards, an outfit that earned the comedienne lots of critics.
Whoopi Goldberg has never taken an easy approach when it comes to her outfits. Her fashion choices have been criticized in several occasions, and her outfit at the last CFDA Fashion Awards was not the exception.
In the pic shared by her daughter, Goldberg looks confident in a bright pink pantsuit that features a wide belt, puffy sleeves, slouchy legs, and a matching wide-brimmed hat. She accessorized the outfit with black round sunglasses and black platform shoes.
Whoopi's chest tattoo was on display thanks to the low cut of her blouse. The outfit was a creation of designer Christian Siriano, who posed proudly with the "The View" host and his creation. After the show, Siriano said in an interview with Paper magazine that the look came to live spontaneously.
He said:
"What's so funny is. Literally, I was just like, "Hey, you wanna wear a fuchsia pink suit and a big hat?" And she wrote me back and was like, "Yes I'll see you there." That was it! [Laughs] It was so funny, but that's how she rolls."
Siriano described Goldberg as "very go with the flow," and fans of the superstar would probably agree with that statement. Whoopi is one of those stars that never stop themselves from speaking out their opinions, and she gave proof of that trait of her personality a few days ago, after Aretha Franklin's funeral.
WHOOPI GOLDBERG ON ARETHA FRANKLIN'S LAST WISH
In a section of her show, the Academy Award winner slammed fans who were criticizing Franklin's funeral and the guests that were sharing the stage, explicitly addressing people's comment on Bill Clinton being in the same place as Minister Louis Farrakhan, known for being a "radical" Black nationalist.
Goldberg also shared one of Franklin's last wishes, after she learned at the singer's funeral. It was Judge Greg Mathis who revealed it to the audience, and Whoopi passed the message saying:
"Aretha was very upset…to discover that people are no longer giving water to the folks in Flint, Michigan and she wanted [Judge Greg Mathis] to take care of it. 'Handle it!' So there was water was being given, now the water has stopped. So whatever we can do to get that going…"
On his speech at the long funeral, Mathis explained that Franklin had pushed him to take care of the water crisis in Flint. The city has been struggling because of the contamination of its primary water source.
For five decades, Flint received water from Detroit, but because of the high prices, the distribution was ceased. It doesn't help that Governor Gov. Rick Snyder put a stop to the free bottled water supply that the city was awarded.
Hopefully, Aretha's peers will work hard on making her last wish come true.
Please fill in your e-mail so we can share with you our top stories!