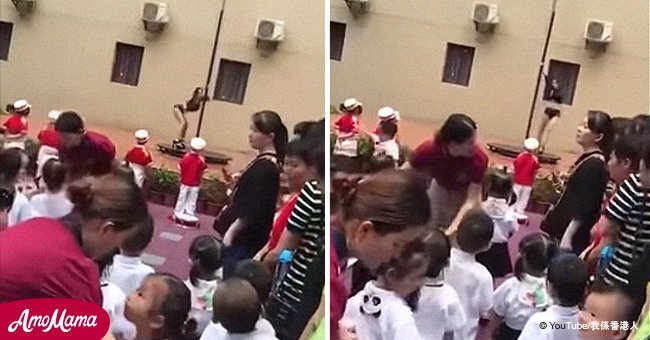 Kindergarten principal fired after kids were greeted with a pole dance

The Xinshahui Kindergarten in Shenzhen fired a principal who allowed a pole dancer to put on a show for the children at a back to school welcome ceremony.
Videos of a pole dancer performing for children aged three to six years old have gained tons of views. Many parents, about 100, were present to record the shocking display.
About 500 children were in the sights of the scantily clad lady as she did the sexy routine outside in the courtyard. The pole she used held a Chinese flag on top.
Follow us on Twitter for more @amomama_usa.
A Shenzhen based journalist Michael Standaert has children going to the school. He recalled that there were other inappropriate activities done in past years at the school.
Just last year, he mentioned that military "activities" and machine gun and mortar displays went on for ten days.
When Standaert called the principal for an explanation of the pole dancing event, she reportedly said it was "good exercise" before hanging up on him.
Standaert is now considering removing his children from the school. Many others are threatening to do the same.
He commented on his Twitter:
"Who would think this is a good idea? We're trying to pull the kids out of the school and get our tuition back. They wouldn't give us the number of the company that owns the school, but looking into that."
The local education bureau also investigated the incident. They found that the school formally invited a pole dancing business to do the performance at the kindergarten.
They subsequently asked the school to apologize. But Ms. Lai Rong, the principal, said she had chosen the act because of the dancer's "excellent skills."
She admitted that she had not double checked on the level of appropriateness for kids of that age.
"A few parents did come to me requesting a refund and threatening to pull their children out of the school, while others said it was just to learn a new type of dance."
She also said:
"I may as well be dead. I already lost the hope to live."
Rong was fired for her lack of discretion in the decision.
Please fill in your e-mail so we can share with you our top stories!