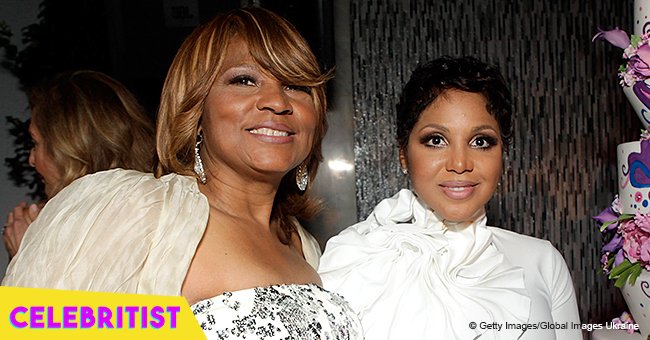 Toni Braxton shares pic of her mom looking stunning in plunging red outfit
Toni Braxton recently gushed about her mother who she describes as "sexy" in a photo she shared on Instagram.
Evelyn Braxton was dressed in a plunging red dress and looked stunning in the solo pic, and her hair was styled in fashionable curls.
If there's one person Toni Braxton can count on for support, it's her mother. In a recent photo the singer shared of her, she expressed how great her mom is.
Toni is engaged to be married to her boyfriend, Bryan "Birdman" Williams and her mother is her fiercest supporter.
Back in 2016, Toni revealed it was Evelyn who encouraged her to date the man since she's been friends with him since 2001.
"My Mom wants us to [date]. My Mom's always says 'You guys have been friends forever, maybe you should'… My Mom LOVES him, he's such a sweetheart… [but] we're just BESTIES."
Now that she's finally engaged to Birdman, she can expect her mom to be by her side to see her through her wedding day.
However, Toni recently revealed that since announcing her engagement in February, not much had been set in stone.
During a recent episode of her show "Braxton Family Values," she told Evelyn that she has neither a date nor a color scheme set.
"I have no dress yet, even, ma," she added.
The singer said she and the Cash Money founder have both been busy to find time to plan their wedding.
"He's part of the problem. He's very busy if not more busy than I am so I have not set a date for the wedding yet."
Meanwhile, Toni found time recently to laud her mother by posting a photo of Evelyn looking stunning in a red dress with a deep cleavage.
The age-defying snap could fool fans who'd be surprised to know the Braxton matriarch is already 70.
She captioned it: "The sexiest great mom mom ever!"
Because she's her mother's daughter, Toni has some age-defying moments too. A month ago, she shared a photo of herself in a grey bathrobe, and fans wondered if she ages.
In the picture, her face is flawless, and she could easily pass for a woman decades younger than her 50 years.
No doubt her youthful glow is due to in part to her upcoming wedding, whenever that may be.
Please fill in your e-mail so we can share with you our top stories!