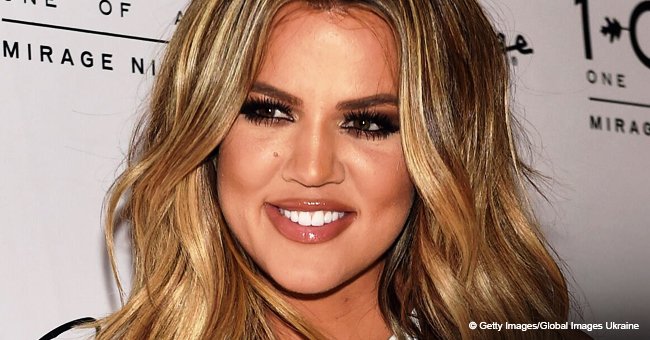 Khloé Kardashian steals hearts with photo of daughter True in black turban while swimming with mom
True Thompson is stealing the spotlight from her famous parents in recent pics from their family vacations. The little tot is learning how to swim just in time for their paradisiac getaway.
Khloé Kardashian and Tristan Thompson are melting hearts all over social media with cute pics and videos of their 4-months-old daughter, True Thompson. The adorable girl's vacation outfits are on point, and her proud mother can't stop showing them off.
In Khloé's recent pic with True on Instagram, the mommy-daughter duo was caught having a swimming session at the pool, with Kardashian covering from the sun with a baseball cap and sunglasses and her little princess rocking a pink swimsuit with red details on it and a black turban.
"Me and my girl!!" Khloé captioned the pic. She later shared another shot from the pool time, and this time, grandmother Kris Jenner joined in on the fun while she held the baby. The beautiful picture that features three generations of the family shows Kris, Khloé and True sticking out their tongues to the camera.
"Trying to do our best Cardi B," Khloé explained of their choice in facial expression.
Fans took to the comment section to share their thoughts on the photos, with most of them agreeing on the fact that True is just too cute for words. One user wrote "I've never seen a more perfect baby in my whole life," and another added "baby True has the best personality already!" and a third one said "how cute! Three generations of cuteness!!!"
Thompson, on the other hand, was seen showering his little girl with kisses as Khloé recorded. The video, shared to the reality star's Instagram account, shows baby True rocking another outfit, this time consisting of a black swimsuit, the same black turban as before, and a pair of Babiators sunglasses.
"Who do you think you are right now with your shades on and your turban and your earrings, girl? Who do you think you are, Mama?" Khloé can be heard saying in the clip, as Tristan keeps on smooching True face.
The little tot is already learning how to swim, as Kardashian revealed on her website a few days ago. The 34-year-old revealed that True loves the water and is not afraid of dunking under water, as she starts to giggle every time she comes up.
Please fill in your e-mail so we can share with you our top stories!