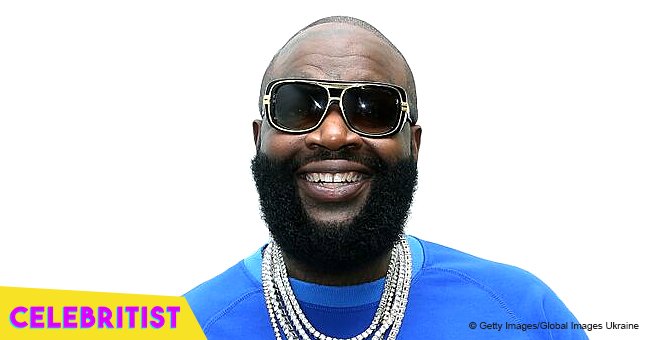 Rick Ross melts hearts with pictures of his adorable daughter on her 1st birthday

Rick Ross just shared the cutest first birthday photos ever. His daughter Hermes was shirtless in a tutu and was all over her birthday cake.
Rick Ross' daughter just turned one and she's already stealing hearts. Photos from her special day posted by her father were a delight to see as she posed in a tutu while playing with her birthday cake.
Amid the uncertainty of Rick's relationship with Hermes' mother Brianna Camille at the time, Rick welcomed their first daughter together last September. A lot of fanfare came with the announcement of Hermes' birth including a series of posts Camille shared featuring lavish gifts Rick had in store for their baby. The rapper presented his brand new daughter with gold Gucci flats and a gold bracelet.
Rick's older daughter from a previous relationship, Toie Roberts was just as excited because she gained a sister. The 16-year-old who also has a 12-year-old half-brother courtesy of Rick's ex, Tia Kemp celebrated her half-sister's arrival by posting a photo of her on Snapchat and writing,
"Got too much to lose, man I got a little sister."
Now that little Hermes is one, Rick made sure she wasn't just a spectator but the center of attention. In a series of photos the proud father shared, he allowed her to sit on the floor with her birthday cake surrounded by a beautiful backdrop of pink and gold drapes and balloons. The little girl was topless as she wore a giant red tutu. She accessorized with a unicorn hairband as she playfully dug into her birthday cake. Her face, chest, and feet were smothered in icing but she was clearly having fun. Her father who captured the moment captioned it,
The same post had another photo where Hermes is still wearing a tutu but minus the icing on her and the headband she was previously wearing. This time her hair had pink beads all over. It's possible the photo was taken before she attacked her birthday cake which could still be seen intact in the background. She was carrying a number one and smiling with her tongue slightly sticking out.
In the third photo in the series, Hermes was no longer shirtless. She was wearing a cute pink outfit with lace trimmings. She held her number one upside down as she looked directly towards the camera and her cuteness is just too much to bear.
It's no surprise Rick went all out for his daughter's first birthday. He's been doting on her since the day she was born. His Instagram is a testament to this as photos of Hermes' precious moments are all over it. One of his more recent posts prior to her birthday was a milestone pic revealing Hermes' two front teeth. The photo was posted around the time news circulated that her mother was pregnant again and was far along. It's unclear whether Rick is the father of her unborn child as neither has confirmed the news of her pregnancy.
Please fill in your e-mail so we can share with you our top stories!