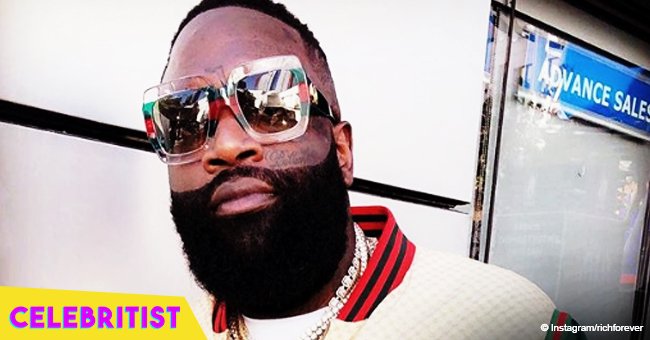 Rick Ross' baby daughter captures hearts in yellow outfit, flashing 2 tiny teeth in pic
Rick Ross' baby daughter steals hearts as she flashes her two tiny teeth in a new photo posted by her proud father.
In September 2017, Rick Ross and his girlfriend Briana Camille welcomed their daughter Berkley Hermes Roberts into the world. Despite being less than a year old, the MMG empire heiress is already being spoiled by her dad, and he made sure to let everyone know this fact by dressing her in an adorable pink statement onesie that said her dad spoils her.
Since welcoming his daughter into the world, Ross has been doting on her, posting almost all her precious moments for their fans to see. Now that Berkley is about to turn a year old, she happily lives with her dad, who showed off her two growing front teeth in a photo he shared.
It seems the little girl might have to give up being their family's baby so soon after new photos have confirmed that her mom, Briana, is pregnant.
A recent series of photos has been showing the toddler playing with her pregnant mom who looks ready to pop any time soon. The photos came as a shock to many, especially since her baby bump looks huge. This would mean that she got pregnant soon after she gave birth to Berkley in September 2017.
As of now, it is unclear whether or not she is pregnant with Rick's baby since he has not confirmed the news of her pregnancy. If it is, the unborn child will be his fourth, and second with the Instagram celebrity. Since Briana debuted the bump in now-deleted photos, however, many have been congratulating the pair.
Rick's relationship with Briana Camille caused quite a stir since it was said that during the time of Berkeley's birth, the rapper was heavily linked to Twitter executive Liz Hagelthorn. The rumored couple was said to have been engaged at the time, but since his child's birth, those rumors quickly died down.
Ross is also a father to Toie Roberts and William Roberts III born from two separate mothers.
Please fill in your e-mail so we can share with you our top stories!