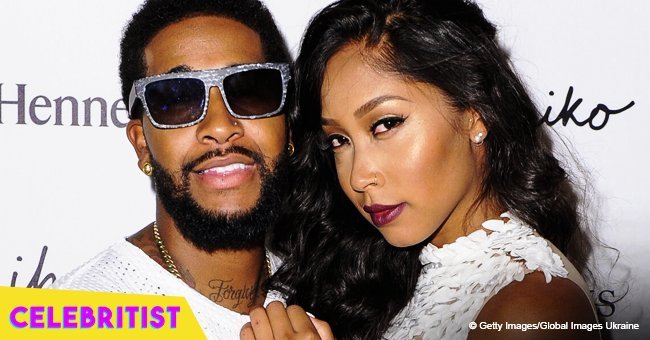 Apryl Jones melts hearts while posing with her son with ex, Omarion, who has long, curly hair

Apryl Jones and her mini-me son are melting hearts across the internet with their latest Instagram photo. Jones also told her followers the funny reason why her other child was not included in the picture.
In what appeared to be a playtime moment at home, Jones and four-year-old Megaa leaned in for a picture. The two were stretched out on the carpet, with mommy smiling and Megaa making a funny face at the camera.
Megaa's long curls appeared to be the highlight of the shot though, with one user pleading:
"Please don't ever cut his hair"
In her caption, the "Apryl Wines" boss revealed why Megaa's sister, two-year-old A'mei, was not in the picture:
"I tried to get A'mei in this pic. Being two is the most. So I settled with just Megaa and this face,"
She explained.
A'mei Kazuko clocked two in March and her celebrity parents, Jones and hip-hop star, Omarion, threw her a memorable birthday party. Despite the exes not being on the friendliest terms, they put aside their differences to put their daughter's needs first.
Both parents also penned touching tributes to their baby girl. Jones was full of gratitude to God for A'mei who she said gave her cause to live again:
"My sweet sweet baby girl A'mei…where do I start. I love you so much. You're such a special little girl, and every time I look at you I'm so amazed how God could have given me you. How blessed I am to be your mother, how much you have shifted my life. You came into my life at the time when I needed you the most. You made every dark day, bright. I had reason to live again because of you. So I thank you for being my lifesaver. I thank you for your constant reminder of why I do it all."
Grammy award nominee, Omarion, also reflected on the impact A'mei has had in his life.
"I love you, A'mei. Nothing has taught me more about a girl then being your father. Thank you for the lessons babe,"
He wrote.
Shortly after their child's birthday, Jones sparked rumors of a clash when she posted a couple of cryptic tweets that seemed to accuse Omarion of being a lousy parent. There were also speculations at the time that the mom-of-two was in a relationship with rapper, Wiz Khalifa.
Please fill in your e-mail so we can share with you our top stories!