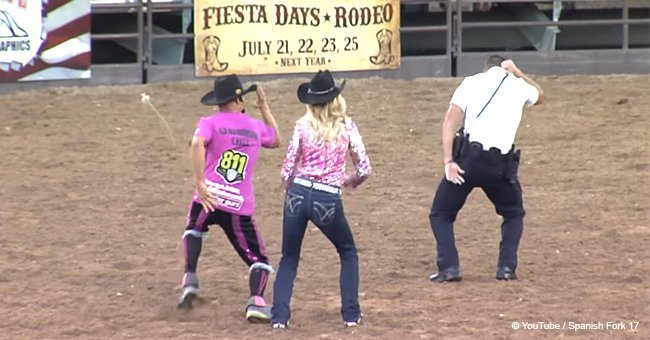 Police officer steals the spotlight in hilarious rodeo dance off

A rodeo clown managed to get a policeman in service to move his hips in front of the eyes of the audience.
A video that was shared on YouTube has made the day to more than one thanks, to the joy that the animator of a rodeo event spreads. His enthusiasm is so contagious that he even managed to convince a policeman to enter the arena and dance in front of everyone.
As reported by Country Rebel, rodeo clown JJ Harrison, who serves in his daily life as a beloved school teacher, had the brilliant idea of asking a police officer to jump over the fence and get into the arena to later make him dance.
While the announcer and the clown are debating whether it is really a good idea to invite an officer to entertain the audience, viewers begin to be intrigued about what will happen next.
The officer probably begins to wonder what mess he has gotten into putting himself in the hands of this clown wanting to encourage the audience, but then he doesn't regret realizing that Harrison only wants to see him perform some dance moves.
The rodeo clown jokes with the officer about the weapons he carries and then calls one of the Rodeo Queens of the event to join them in the arena. The blonde agrees and walks to where they are standing; ready to help the clown to raise the spirits of the spectators.
And then happens what few would have imagined seeing in their lives; right there, in Spanish Fork, Utah, Harrison convinces Officer Adams to be a contestant in a dance competition against the Rodeo Queen.
Harrison assures Officer Adams that the music the announcer will choose will be irresistible to dance and then steps back to see the cop's performance, what no one imagined was that the officer's dance moves would be incredible.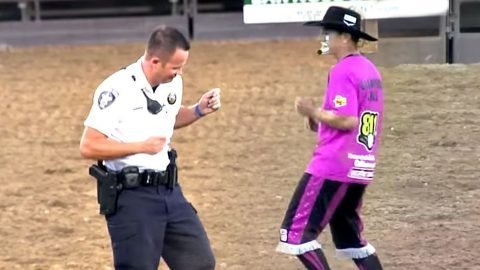 Source: Rebel Country
The audience is amazed, and the same rodeo clown is surprised by the talent of the officer, the cop is even a better dancer than him. Clearly, the officer beats the Rodeo Queen without even trying hard and then leaves the arena to return to his duty.
Harrison takes advantage of the public connection with Officer Adams to remind them of the great work that this man provides to the community and that they have the emergency number 811 for any situation that requires their services.
It is incredible the great responsibility that police officers have when risking their lives to protect citizens. This reminds us of a beautiful act of kindness that two Denver police officers had with a boy who was bullied by schoolmates.
Please fill in your e-mail so we can share with you our top stories!