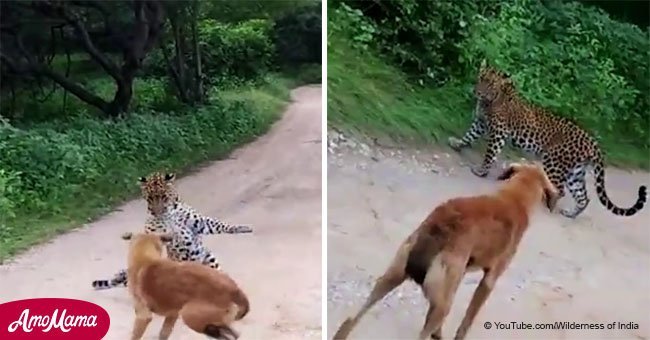 Injured dog stands his ground against attacking leopard in nerve-wracking footage

In a dramatic confrontation that was captured on video, a brave dog can be seen standing his ground when a leopard attacked him.
The incident took place recently when the stray dog stayed at a temple inside Jhalana Safari Park near Jaipur, Rajasthan, as reported by The Times Of India.
Dogs have been known as a favorite prey of the big cats, but this dog not only managed to survive the leopard attack unharmed but also pushed away the leopard back into the forests.
A group of tourists recorded the whole scene. They were on a safari inside the park at the time. The dog was delighted to see them and sat down to rest and went to sleep.
Follow us on our Twitter account @amomama_usa to learn more.
The tourists then saw a leopard stalking the dog from behind the bushes.
Ved Prakash, the driver of the vehicle, said: "It was barely some minutes since our vehicle came to a halt on the track on sighting the leopard. We were excited at our luck but didn't realize that more adventure was in store for us."
"Suddenly, the dog came limping down the track in a friendly gesture. Upon getting no response from us, it curled itself up in front of our vehicle, unaware that the leopard was around."
A few moments later, the leopard suddenly pounced at the dog.
The dog was caught by surprise. Though it tucked its tail between its legs, a sign that the dog is scared, it immediately started a counterattack and barked at the leopard.
The leopard, named 'Juliet' by forest officials, looked bewildered.
In the clip, Juliet can be seen looking intently at the dog before walking away. It seemed very disappointed.
Meanwhile, the dog continued to bark at the retreating leopard.
"Juliet left quietly as there were visitors in jeeps behind the dog. If not, it is unlikely that the dog would have survived the encounter," a forest official said.
Please fill in your e-mail so we can share with you our top stories!