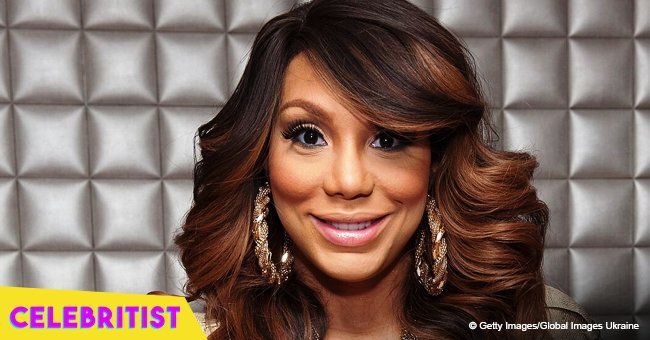 Tamar Braxton debuts massive leg tattoo, posing in black and white lingerie

Tamar Braxton has been feeling extra confident in the past few days, flaunting her new massive leg tattoo in just her lingerie.
Tamar was definitely feeling the Friday vibes as she showed off her fit figure on Instagram while sporting some racy lingerie. However, aside from her body, there was something else that was evidently noticeable on her leg: her massive tattoo.
The "If I Don't Have You" singer proved just how sexy she is in her latest series of Instagram photos wearing black and white lingerie.
In the first photo, she sizzled in a piece of white lingerie that showed off her curves, leaving little to the imagination as she laid down on the bed.
"IN Paradise, in only @fashionnova (get off me feeling my Instagram model body I worked hard for) #bestlifeliving."
The 41-year-old then posted a photo of herself standing by a cabinet as she showed off her black bodysuit and leg chain, which partially covered her massive tattoo.
However, she clarified that her new leg tattoo was actually just a henna, and was bound to disappear in a few weeks thus wanting to make the most out of it while it's still there.
Her little getaway comes after news broke out of Tamar and some other members of her family not returning for a new season of "Braxton Family Values", and instead will be going on tour with Snoop Dogg.
Keeping herself busy now that she will not be returning on the show, she recently revealed that she would be joining a new BET docu-mini series.
Aside from her various responsibilities, she still makes sure to become a full-time mom to her five-year-old son Logan. She makes sure to be there for him in all of his milestones and makes sure to work extra hard to give him a comfortable life to live.
Recently, she updated her followers with an adorable mother-and-son moment as she bid him goodbye as he headed to his first day of kindergarten.
"I can't believe he's in kindergarten my baby was sooo excited!! I'm excited to have my house back and the cartoons aren't on every television and I'm SUPER proud of myself that I didn't cry( this time)"
Tamar shares Logan with her ex-husband Vincent Herbert, whom she has decided to divorce after a decade-long marriage due to instances of him cheating on her. Now, she is trying to focus all her time and energy on making sure her son is brought up well despite their circumstances.
Please fill in your e-mail so we can share with you our top stories!