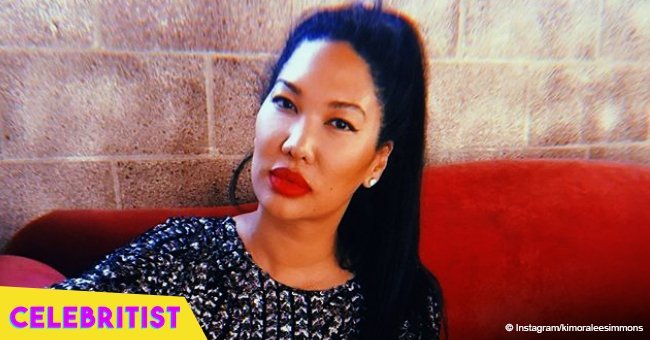 Kimora Lee Simmons flaunts legs in black dress in a recent picture with her beautiful daughters
Kimora Lee Simmons joined her beautiful teenage daughters to launch a new program for the United Nations of Women organization. The three of them looked stunning and proud of being part of such an important event.
Model, entrepreneur, and new UN Women champion, Kimora Lee Simmons is working hard to make a change in the world, and her lovely daughters are going along for the ride.
In recent pics shared to their Instagram accounts, the trio looks stunning and classy but keeping a youthful spirit, as they attended an important event at the NASDAQ headquarters in New York to launch the new Gender Innovation Principles program from the UN Women.
Kimora and her daughters, Aoki and Ming Lee Simmons, whom she shares with Russell Simmons, were all wearing dresses from Kimora's new Spring 2019 fashion collection. Simmons rocked a body-hugging black dress with white stripes and a high-thigh slit and combined it with white strappy heels.
Aoki, 15, donned a black dress with silver hearts printed on it and completed the look with black strappy heels. Meanwhile, her older sister Ming, 18, wore a pair of ankle length black pants, a long-sleeved black t-shirt with silver chains details, and black strappy heels.
She captioned the pic:
"Who runs tha world?! @unwomen @nasdaq kind of day. Thank you to everyone that joined us. Proud to speak at today's @unwomen's global innovation coalition for change... wearing all kls SS19, this is what #nyfw is about for me this time around. #un #ambassador #womensrights"
This time around, Kimora didn't introduce her collection through a fashion show; instead, she did private showrooms demonstrations for industry people, as she preferred to focus on her talk about women's entrepreneurship at the U.N. Women's Global Innovation Coalition for Change.
Kimora and her daughters are also ambassadors for The Unmentionables, a non-profit organization that provides education and other empowerment programs to forcibly displaced people around the world. Earlier this year they traveled to Greece to work closely with the organization.
A COLLEGE GRADUATE
Likewise, Kimora has made sure to give her daughters the best education, and a few months ago, the former model earned her college degree at the same time Ming Lee graduated from high school.
Speaking to US Weekly, Kimora revealed that her daughter was not happy about sharing her special moment with mom, but was proud of her nevertheless.
"Well, Ming Lee says I stole her light. She's upset to have to share it with me, but it's a great example of setting an example for yourself and your kids. When they say you're never too old to go back, it's true. No matter what situation you're in, it's possible."
AOKI'S THOUGHTFULNESS
Aoki, on the other hand, is still in school and recently made a trip to Spain to make a summer internship at an archaeology dig site. The youngest women of the Lee Simmons family has proven how thoughtful and smart she is despite her age by continually speaking about international issues and giving her an outspoken opinion about social media's toxic environment.
Last June, she surprised fans when she revealed through her Instagram stories that even though she had lived most of her life under the shadows of her mother and sister, feeling insecure about her appearance, she was ready to overcome her fears and share pictures of her special moments without overthinking too much.
She wrote:
"I've dealt with a lot of negativity on Instagram, comments saying I'm not as pretty as my big sister (who is the best by the way). We all want to look nice in our photos, but I've tried to let all of that go and just post pictures where I look happy or was actually having a good time. I try not to worry who I'm standing next to and just share good moments with you guys."
Is clear that Kimora and Russell Simmons have done a fantastic job raising their teenage daughters to become thoughtful, independent women of tomorrow.
Please fill in your e-mail so we can share with you our top stories!