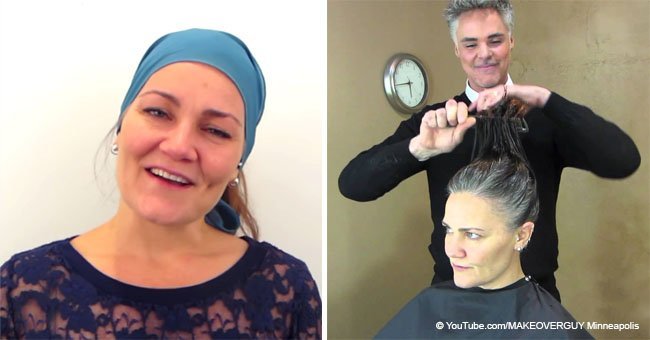 Woman tires of her gray hair and gets an unbelievable hairstyle transformation

A 41-year-old was done with coloring her persistent grey hairs and decided to make an instant dramatic change.
With the help of Christopher Hopkins, "The Makeover Guy" on YouTube, Kerry Grundhoefer took the leap and stepped into the barber's chair.
Before that, she spoke to the celebrity stylist about the tough decision on camera as she wore a headwrap. Regarding the "why" of her choice, Grundhoefer said, "it's time, it's an accumulation."
Follow us on Twitter for more @amomama_usa.
Grundhoefer, who is from Minneapolis, Minnesota, pointed to an extended period of processing that she no longer wants to continue as the foundation for her big move.
She then proceeded to unwrap the front of her head to reveal her grey roots.
Grundhoefer and Hopkins next entered the shop. Hopkins stood over the smiling woman as he prepared her hair for the change.
The 54-year-old stylist mentioned how some people think he is forcing Grunhoefer to commit the act. But the lady in the chair reassures viewers:
"I asked to have this done. And I'm actually extremely happy that you're obliging."
She explained:
"That's the fun thing about hair. It's like fashion, I enjoy it, I have fun with it. But there's a point where, even if the gray wasn't an issue, I would want something anyway. It's way past time."
And with that, Grundhoefer's locs' time was up. Hopkins proceeded to haphazardly chop off the long hair. He raised his hands in a show of victory when he was done.
Source: YouTube
When we see Grundhoefer again, she is rocking a gorgeous grey pixie cut and looking as cute as ever. She complimented her new 'do with large hoops.
The dimple-specked woman grins as she says how she feels about the look.
"I love it! It's amazing." She continued, "It's exactly what I wanted."
She explained the short hair dilemma saying, "I think people just can't comprehend cutting long hair."
Then we see the reaction of Grundhoefer's husband to her new haircut. He said, "It's awesome" as he gave her a big hug. Her husband appeared very supportive by showing that if she likes it then he's happy with it too.
Please fill in your e-mail so we can share with you our top stories!