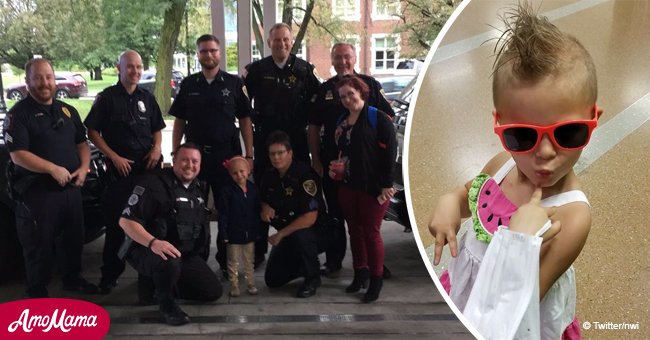 Police escorts 5-year-old to chemotherapy treatment

A tiny cancer patient gets a special police escort to the hospital
A tiny 5-year-old cancer patient called Sammy Barr is melting hearts all over the world with her plucky attitude.
The Hammond, Indiana girl has become a symbol of courage to the Police of her hometown, and they decided to do something very special for Sammy, reported ABC Chicago on their Facebook page.
Sammy's mother, Diana Barr, explained that Sammy had been diagnosed with eye cancer when she was just 3 months old. The tiny baby had to have an eye removed and her mother prayed they had beaten the terrible disease.
"When you're having a bad day, you just see that smile and you just start cheering up right from there. She's stronger than us."
Officer Matt Zembala, ABC.com, 10th of September 2018.
Sammy's friends in the Police decided to surprise her
Unfortunately, Sammy's cancer returned, and she started having chemotherapy at the Riley Children's Hospital in Indianapolis.
After a grueling course of treatments, Sammy has just two lots of chemo treatment to go, and on the 10th of September, the Hammond Police department announced they would be providing Sammy with an escort on the 300-mile round trip to the hospital.
Read more about Sammy Barr on our Twitter account @amomama_usa.
Driving to the hospital in a police car was her fondest wish
Sammy had met many of the officers at community events and had impressed them with her courage and sweetness.
Then she mentioned that she'd love to go to her treatment in a police car, and her friends were determined to make her wish come true.
No-one was more surprised than Sammy's mother, who was overwhelmed and touched by the officer's gesture.
Sammy's courage is an inspiration and an example
The officers confessed that Sammy is a huge inspiration for them, with her sassy smile and can-do attitude. When they are having a bad day, they explained, her smile is enough to remind them of how precious life is.
The officers plan to take Sammy out on the town after her treatment - for a special lunch and shopping for a certain teddy bear with a bow that she's been longing for.
If you liked this story read similar articles below:
Two-year-old cancer patient refuses to give up as he is taken off life support
Famous singer returns to stage after son's battle with cancer
Please fill in your e-mail so we can share with you our top stories!