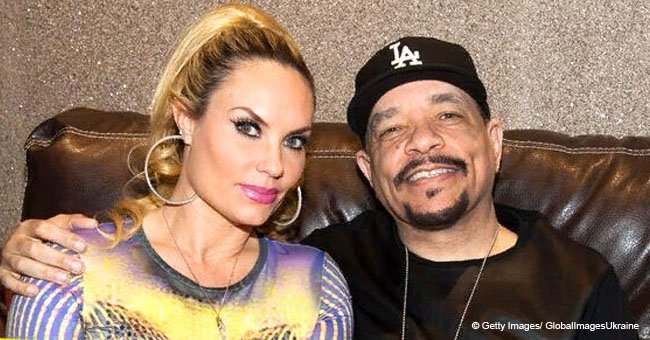 Ice-T & Coco's little daughter melts hearts in pink ballet costume on first day of dance class

The 60-year-old "Law & Order: Special Victims Unit," proudly shared a photo of his adorable daughter dressed up and ready for her first ballet class with some fans commenting on how much she resembles her father.
On August 8, 2018, the rapper and actor born as Tracy Marrow took to his official Instagram account to post a snapshot of 2-year-old Chanel, Marrow's daughter with his wife, model Coco Austin, about to attend her first dance class.
In the image, Chanel can be seen wearing a pink onesie and tutu while smiling at the camera. Her face and overall attitude seem to indicate that the toddler was very excited and looking forward to her new activity.
"Chanel headed to her 1st day at Dance class… She's ready!" the star captioned the photo that has been liked by more than 18.000 people so far. Read more on our Twitter account @amomama_usa
Marrow and Austin's little bundle of joy was born in November 2015, and other users expressed their amazement about how fast time seems to pass, as Chanel looks so grown.
User's comments
"Finewinne" wrote: "She's your twin. Omg she's such a cutie pie. Mini iceT." "I see her and she is growing getting taller. So cute, your twin," added "Twinstacey40."
"Aaaw man!! Look how big she has gotten! Amazing. Much, respect and prosperity to you and your family @icet We know you've worked tremendously hard to change your life and lifestyle"
-@intimate_co, Instagram, August 2018.
While most users agree that Chanel bears a striking resemblance to her famous father, at least one of the rapper's followers said the child looks more like her mother. "She looks exactly like Coco here," wrote "Island_primadonna."
Chanel's mother has also shared photos of her daughter
Austin, who has been Marrow's wife since 2002, hasn't been shy about sharing pictures of the couple's adorable daughter. Always a fashion enthusiast, Austin's photos with Chanel in matching outfits are fan-favorites.
On August 1, Austin shared a photo taken at the Grand Rapids Airport as she traveled with Chanel, and the mother and child sported identical outfits, making Austin's fans showering the post with comments and likes.
The same month, the model uploaded a slideshow portraying herself and Chanel in a pool wearing matching blue, white, and pink swimsuits while posing in different ways in what seemed to be a very fun summer day.
Austin still breastfeeds her 2-year-old
On August 17, Austin revealed in an interview with E! News that she still breastfed Chanel, explaining that she does it more for psychological comfort than for nutrition, something that some people find controversial.
When asked about whether she and her husband, who has two older children from previous relationships, had plans to keep expanding the family, she answered negatively, citing her busy schedule and Chanel's jealousy.
"It's so weird because Chanel still breastfeeds, she still nurses...every time I hold a baby and the baby is close to my boob, she goes, 'My boob!'" Austin shared.
According to the 39-year-old, most people are supportive of her practice of breastfeeding her daughter at that unusual age, but she has also faced attacks from those that disagree with the way she raises her child.
In July, Coco uploaded a photo of Chanel peacefully resting on her mother's breasts in what seemed to be a post-breastfeeding session.
In the caption, Austin said that she felt inspired by Instagram accounts that she followed and made her understand the powerful image of a mother sharing intimately with her children, nursing or not.
"I love that I can be a part of that. @babychanelnicole has made me a more sensitive person now that I'm older," added Austin, mentioning what appears to be Chanel's own Instagram account.
A long and successful marriage
Even though in the past Austin and Marrow had been the subject of rumors regarding a possible divorce and infidelities, Austin says they are a very "tight family" and that they have a simple "secret" to make it work.
"It's really cheesy, and it really works, and it's communication. It really is communication," she said in an interview on the HollywoodLife Podcast with Bonnie Fuller.
"You think there's some magical word here, but the thing is, you constantly grow no matter what age you are, and if you're not communicating every day, you're going to grow away from each other," she reflected.
"But, if you're communicating every single day, and you're on the same page, you're going to grow as one," added Austin.
Law and Order: SVU is making history
Back to Ice-T, the influential hip-hop artist who has come to be much more widely known for his involvement with the police procedural and crime series "Law and Order: Special Victims Unit" is about to set a new record with his fellow cast members.
The rapper-turned-actor proudly shared the news back in May that the series he works in since its second season joins a very select number of series that has run for 20 consecutive seasons. Season 20 will premiere on September 27.
Please fill in your e-mail so we can share with you our top stories!