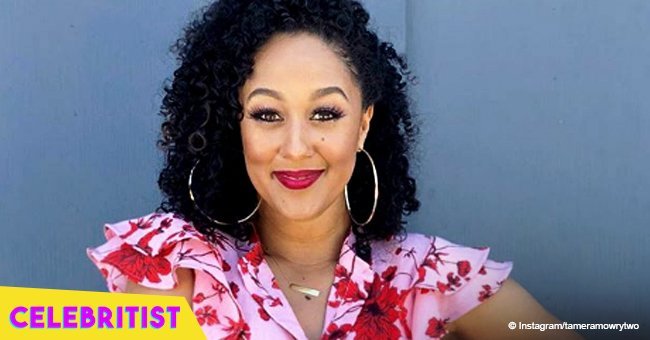 Tamera Mowry's daughter rocks princess dress while playing soccer with uncle Tavior
Tamera Mowry is the actress and TV host, but it's her daughter Ariah Housley who manages to steal the show every time. The adorable tot chose to ditch costume rules as she played soccer with her uncle.
Tamera shared the photo which showed her brother Tavior Mowry and her three-year-old, Ariah, as they enjoyed a soccer game. Tavior, 25, wore a black jersey over blue shorts. He also had on a black snapback.
But it was Ariah's costume that was the highlight of the image. She wore a pink princess dress and flats to match, something you wouldn't think to see on a soccer field.
Ariah didn't look like she cared much though, and her mother revealed in the caption:
"It's uncle time with @taviormowry16! Ariah insisted on wearing her princess dress and shoes"
ARIAH'S FANS SPEAK UP
The balling princess scored a lot of points with her outfit, as was evident in the comments. One fan even compared her to tennis superstar, Serena Williams:
"I love her spirit it. Nothing wrong with being a soccer kicking princess. Go Ms. Ariah!!!- @msnikib35
"Sports in a pink tutu just like #serenawilliams"- @shanicenyc
TAVIOR MOWRY IS ALWAYS GAME
Uncle Tavior didn't seem to mind his teammate's chosen uniform as well, because he looked like he was about to pass her the ball.
Even though Tavior keeps a low profile and is not as much in the news as his famous siblings, he has a close relationship with them. The former college football player is the last of the Mowry children. His siblings are twin sisters Tia and Tamera Mowry, and brother Tahj Mowry who famously played Tucker in "Baby Daddy."
Tavior is always present at family gatherings and is a favorite of his nieces and nephews.
On many occasions, the budding musician has been pictured spending time with Ariah's brother Aden, and Tia's kids, Cree, and baby Cairo.
THE ARIAH WHISPERER
Meanwhile, Ariah apparently has a soft spot for her uncles. Tamera's other brother, Tahj, is called the "Ariah Whisperer" because according to Tamera:
"He's the only one in our family that Ariah doesn't give the side eye to. She gives the side eye to everyone. She can be in the worst mood. …The moment this one walks in… [points at Tahj] She just starts smiling, her eyes get bright."
Please fill in your e-mail so we can share with you our top stories!