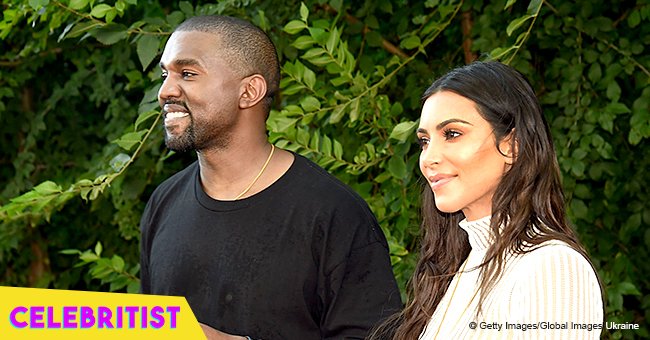 Kanye West is a great dad on duty, kissing baby Chicago's head in touching photo

Kanye West might come off as a headstrong individual who is feared by many, but he is an entirely different person when it comes to his kids. After fighting with a journalist over the weekend, he takes a sudden shift of mood as he shared a photo of himself kissing Chicago's forehead in a touching post on Twitter.
Kanye West might mean different things to different people, but to his children, he is the best dad on Earth. Kanye recently proves how his children had changed the game for him, especially since just a few days before that, he was seen going berserk on a journalist who "asked him the wrong question."
During the Ralph Lauren 50th-year runway show and gala dinner at Central Park last Friday, he was asked by a certain Entertainment Tonight reporter regarding the on-going feud between Tyson Beckford and his wife, Kim Kardashian-West. Put off by the question, he asked that the reporter be kicked out of the red carpet, or he was leaving
Eventually, event coordinators ended up asking the reporter to leave so that Kanye could head back to the event as he refused to enter while she was still there. A few minutes later, he was seen sharing a table with Hillary Clinton, while getting a good view of Oprah who said a speech during that night.
After the controversial event, he made sure to spend some time with his children over the weekend, even planting a kiss on his daughter Chicago's head.
The gesture proves what he previously said to Parents about how fatherhood has changed him. Being a workaholic, it's been so different for him now that he has three kids waiting for him to head home.
"Now I'm on the first flight back home to see my daughter. Having a family, period, has completely made me rethink the way I rap."
Previously, he shared how content and happy he was with his life, and this was before he and Kim even had Chicago. Now that they've added an adorable bundle of joy to their family, we can only imagine how much better his life has been with the little one around.
"[I'm] so, so, so, so happy. And I'm happy for the normal reasons to be happy. Because I married the woman of my dreams and I have a beautiful daughter and so many beautiful people around me.... I have a son on the way."
Kanye shares his three children, North, Saint, and Chicago with his wife Kim Kardashian-West, whom he married in an extravagant Versailles Palace wedding in 2014.
Please fill in your e-mail so we can share with you our top stories!